Afloat at last

Mystic of Holyhead (successor to Lynn Rival)
Rachel and Paul Chandler
Tue 22 May 2007 21:12
Lakki, Leros (37:07.78N 26:50.90E)

We've been here for over a month already. As ever, all our
pre-launching tasks have taken longer than expected. The main task was
a much needed engine overhaul. After 27 years it needed a good de-rust
and re-paint as well as attention to some of the parts that are
difficult to access without lifting the engine off it's mountings.
We've given it a thorough going over and Paul took the opportunity to
tidy up all the associated electrical wiring and plumbing.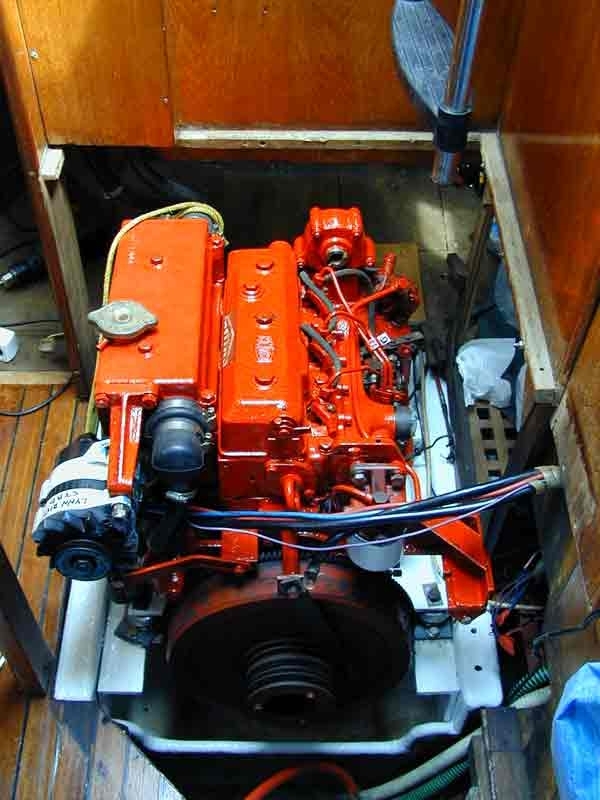 Then there was the installation of the SSB radio. What a palaver that
was, with so many different components to find a home for and link with
wires and special copper sheet. If we'd known just how time-consuming
it would be we'd have thought twice about having one. It's now
installed and now all we have to do is tune in. So far all we've been
able to find is Radio China.

We're also planning to instal two more solar panels and a wind
generator. The problem is where to put them. We decided to ask the
boatyard to construct us a stainless steel gantry to go at the back of
the boat. Not surprisingly the workshop is very busy at this time of
year so we expected a delay but then when the promised time had come we
were told that they couldn't do it because a machine had broken down.
The solar panels and wind generator are still in their boxes.

While in the boatyard we were staying overnight in lovely rooms
overlooking the bay of Alinda, about 4kms away, commuting daily in a
hire car. We've managed to explore a bit more of the island and made
lots of friends (including the baker's wife, numerous taverna staff and
mini-market owners!). With so few tourists about at this time of year
everyone has much more time to chat, not forgetting the offerings 'on
the house' to encourage you to come back. Leros is a lovely island and
with so few sandy beaches it will hopefully remain a bit of a backwater
as far as mass tourism is concerned.

Knowing we'd be in the boatyard for longer than expected we took a
couple of days off and made a trip to the island of Rhodes on the
Dodecanese Express, a catamaran that provides a service up and down the
islands. Luckily we had only light winds for the 4 hour trip each
way and Rhodes is a lovely place to visit out of season. The old town
is very pretty and covers quite a large area. The locals were very
hospitable (as they all are in these islands) and we thoroughly enjoyed
wandering around, visiting the Palace of the Knights of St John, etc.




The weather was quite cold when we arrived in mid-April. We were hardly
warm enough sleeping under one blanket. The weather in the UK was much
warmer. At the beginning of May it suddenly got hot here for a few days
and has been up to 30 degrees C from time to time. During this week
it's been a very pleasant 25 degrees with light winds.

We had moderate winds for our launching on Monday. The night before
we'd driven to Lakki to drop off our hire car and had supper with some
friends. We stayed out later than planned, drinking too much red wine
"on the house", before getting a taxi back to the boatyard to sleep on
the boat. As luck would have it we were the first to be launched so we
had no chance for breakfast beforehand. All went well and we were soon
sailing (under our mainsail only as we couldn't be bothered to hoist
anything else), but it wasn't the most comfortable trip as the wind kept
dropping, leaving us wallowing around and Rachel wishing she'd drunk
less the night before.

We've been getting on with a few more things in Lakki, finishing the
installation of the SSB radio, overhauling the roller reefing gear, etc.
The list of chores is gradually getting ticked off. When overhauling
the furling gear on the headsails we realised that we need a rigging
screw. None of the chandlers here have the right size so we're waiting
for a delivery. Hopefully we'll get some sailing in next week but with
the uncertainty of when we'll be called back to the boatyard for the
gantry work means that we won't be able to go far.

The last two days have been cloudy and wet so we've not been missing
anything. The marina here is quite busy and we had winds gusting up to
40 knots this afternoon, causing one or two of the yachts some concern
as they were probably moored too close to the quay.

On Tuesday, we said farewell to Audrey and Cam on Swebile, who we'd got
to know quite well as they were nearby in the boatyard for much of the
time we were there and also joined us on the trip to Rhodes. They have
gone West so we don't expect to see them again. Much of the work we've
been doing on the boat is in preparation for this autumn's trip down the
Red Sea with the Vasco da Gama Rally. By chance, one of the yachts
visiting Lakki at the moment is another Rally participant, called
"Reckless". The owners, Tim and Chris, are now heading north for a
while but we're looking forward to meeting up with them again in
September, if not before.
---