A little bit of cruising

Mystic of Holyhead (successor to Lynn Rival)
Rachel and Paul Chandler
Sun 1 Jul 2007 10:38
Somewhere in southwestern Turkey (36:32.46N 29:03.12E)

We finally escaped Leros! After almost 3 weeks of waiting in the marina
at Lakki we were called back to the boatyard for our gantry construction
to commence. They needed Lynn Rival close by so they could measure up
and check progress at various stages.

The weather in Lakki was mostly ideal for working on the boat and not so
great for cruising so we decided to stay put and catch up with things
we'd been putting off for ages as well as finishing off the installation
of new equipment. Rachel spent a lot of time working on deck, stripping
out some of the caulking that needed replacing (raising comments from
neighbours that she appeared to be a devout muslim, praying all day),
while Paul worked mostly below on plumbing and wiring for things like
the water-maker and deck washdown pump. Lakki is one of those places
that grows on you so we were quite happy.

Back at the boatyard, we were parked right next to the workshop so had a
7am wake-up call each morning. We did think about de-camping to rooms
but ended up staying on board the whole time. We were near the
facilities (shower and toilet block) and on hand for early morning
discussions about our requirements. We had anticipated 3 or 4 days for
the work. In the end, we were there for 2 weeks but they did a really
good job so we're glad we waited.




While in the boatyard we managed to find some more things to keep us
occupied in between breakfast and long lunchbreaks at the nearby beach.
We took the opportunity to put on an extra coat of anti-fouling and so
on but after a while we were beginning to run out of things to do.
Also, the weather started to get warmer towards the middle of June,
reaching 34 degrees in the day and staying hot at night so we longed to
be afloat again.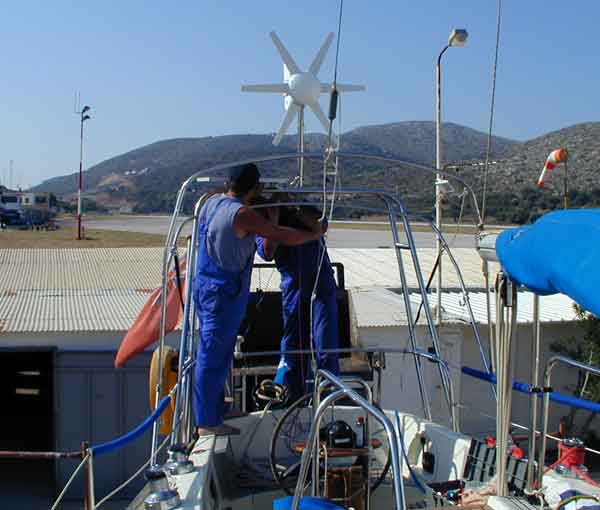 Finally the gantry was ready on 20th June. They had also made
adjustments to the bimini frame, and we still had to wait for the canvas
to be adjusted. Once the gantry, wind generator and solar panels were
installed we launched and went back to Lakki marina. We were also still
waiting for delivery of a new mirror for the aft heads (one of the
bright ideas we had when looking for things to do). The bimini canvas
arrived the next evening and, time now being very limited, we left just
over a week ago, but without the mirror. It was hard saying goodbye to
the friends we'd made on Leros, especially Jim and Louis who run the
Port cafe. They serve the best pork souvlaki, definitely on Leros and
most probably in the Dodecanese. Once we'd become regulars they kept
giving us free ouzos, ice creams, fluffy toys (!), internet use, etc.
Knowing we were leaving they gave us yet more presents. In return we
gave Jim one of our CDs because, like so many Greeks, he has awful taste
in music. What he will make of Led Zeppelin is anyone's guess!

On leaving Lakki we sailed south, leaving Kos to port. The promised
F4-5 was intermittent so we had to motor some of the way but ended up at
the pleasant little harbour of Palon on Nissiros. Our favourite
restaurant was open but Elleni had only just got back from wintering in
Australia so was only serving drinks. Summer starts late on Nissiros.

Next was Tilos after another sail a bit then motor passage. It was our
first visit to the island and we found the harbourmaster (Ms) rather
off-putting as she insisted we drop an anchor even though there was
plenty of room to go alongside. Otherwise, we found everybody really
friendly and we had a lovely supper of grilled local squid and succulent
roast kid.

The temperature was still very hot during the day and remaining almost
30 degrees at night so we were feeling rather listless, despite being
very happy to be cruising at last. Our next stop was another new island
for us: Simi. We had to motor most of the way and dropped anchor in the
almost enclosed bay of Panormitis. Here we had cooling swims and stayed
on board for supper of Lerian sausages (a bit salty but still tasty).
The anchorage was quite busy but the night was quiet, if hot, and only
disturbed by the chimes of the clock at the local monastery.

The time had come to cross frontiers and we sailed the next day to Datca
on the Turkish coast just north of Simi. It was another hot day with
intermittent wind. Apart from getting our sea-legs we have been busy on
these quiet passages trying out our new toys. The solar panels and wind
generator have been working brilliantly since we left the boatyard. The
SSB radio is entertaining us every evening with the BBC World Service
and we're learning the art of tuning in to useful weather information
(though have yet to download an intelligible weatherfax), but the object
of sheer wonder is the water-maker. It has to be one of the most
amazing bits of modern technology and we've yet to get over the novelty
of producing Lynn Rival fresh water from the sea on a daily basis. The
deck-washdown pump is also a boon, saving the deck hand the
back-breaking task of hauling buckets of seawater over the side.




We entered Datca with our Q flag flying and intended to do the legwork
to get our visas and transit log ourselves. The harbourmaster's
assistant who helped us tie up took us straight to an agent who
explained that it was a long walk to the immigration office. It was a
hot day, at least 36 degrees C and for just 20 Euros the agent would
organise things while we sat down in one of the inviting-looking harbour
bars for a cold beer. It didn't take long to make up our minds,
especially as we'd just seen CA friends Bernard and Angela De Saulles on
their yacht Ming moored nearby. We caught up with their news over beers
and before long our documents were delivered.

Datca is a pleasant small town and we were soon reminding ourselves of
the delights of Turkey. Paul decided it was time for another haircut so
off he went to the barber while Rachel did a recce for somewhere to eat
that evening. On returning to collect Paul he was still having his
scalp, beard, ears, nostrils and eyebrows trimmed of excess hair.
Rachel looked on with envy as he was also given a shoulder and back
massage. The envy must have been obvious (or perhaps her neck muscles
in need of attention were obvious?) as she was also given a massage "on
the house". That evening we enjoyed Turkish pide, the lovely crisp
boat-shaped pizza equivalents they make, for supper with B&A. The night
was also much cooler, despite forecasts (rumours around the harbour) of
continuing hot weather.

After shopping the next morning we headed off in a general easterly
direction, briefly re-entering Greek waters as we took a short cut
through the islands on the north coast of Simi. Again we had only
intermittent wind so had to motor much of the way to an anchorage at the
end of the Bozburun peninsula. It was quite busy but we managed to find
a quiet spot to anchor for cool swims, have supper on board and a
peaceful night. Surrounding the anchorage were the ruins of ancient
Loryma but to our shame we didn't go ashore to explore and simply
weighed anchor the next day and headed east again.

We were rewarded with a great sailing wind that day (Thursday) and made
our way almost to the Gulf of Fethiye on a broad reach, missing out on
all sorts of places we should or should not have visited (Marmaris to
the north and Rhodes to the south). High summer is not the time to do
culture so we've left the Dalyan river and ancient Caunos for years (or
decades?) to come. At the end of the day we anchored in a lovely bay
called Disibilmez, not far from Dalaman airport, and for the first time
took a line ashore as is common practice in southern Turkey. Still
having our dinghy packed away below it fell to Rachel (the stronger
swimmer) to take the line and secure it to a rock ashore. Again, the
bay was quite busy with yachts but we managed to get a good spot.

On Friday we had another good day's sailing, as we entered the Gulf of
Fethiye the wind strength picked up and was gusting 35 knots. By the
time we took the main down to explore the various possible anchorages
under motor, the wind was gusting over 40 knots and the spray so bad we
wished we'd had our spray hood rigged (also down below!). It didn't
take us long to find a suitable anchorage among the many in Skopea
Limani, on the west side of the Gulf. It's a popular spot and being
high season, is full of charterers and gulets coming and going. The
Turkish method of taking a line ashore in anchorages is a bit of a pain
for us because Lynn Rival refuses to go backwards in a straight line but
it does allow many more yachts to anchor in any space. The whole area
looks a bit like a parking lot for yachts but the surroundings are
beautiful and surprisingly peaceful.

By now it was time to stock up on provisions again so we headed north to
Gocek on Saturday. It's a small village that has grown into a major
yachting centre, with 4 marinas and charter yachts, gulets, dinghies,
etc charging around the place all day. It was also time for us to check
the dinghy was ok so we anchored off and got it out of its bag for an
outing. We only needed a few things but it was interesting to see
well-stocked chandleries, camping gas and bacon available, among other
things. I wouldn't rate it high on our list of places to return to but
useful for stocking up.

We are now heading south east along the coast, planning to get to Finike
in about a week's time, where we will leave Lynn Rival and fly home to
the UK on 11th July.








---