Sea trials

Mystic of Holyhead (successor to Lynn Rival)
Rachel and Paul Chandler
Mon 8 Dec 2008 13:47
December is here and the weather continues to be hot and sticky! Not that we're wishing to be in England now that winter's there.



We somehow forgot this chap in the last diary entry

Gavin arrived on 29th November and the first Volvo Ocean Race yacht came in early the following next day, 3 days earlier than expected. The remaining 7 racing yachts arrived in the following 3 days. Only one arrived in daylight so there was not much to see, but now they are all hauled out for maintenance, lined up in a row on the shore of Willingdon Island, opposite our boatyard.


Ericsson 3 arrives in third place

There have been a lot of comings and goings at the boatyard. Alondra and Tamata left for a more salubrious mooring at a nearby hotel. Lo brought Mistral over from the Bolgatty anchorage for haul-out and anti-fouling. Alero and Mailys (recently arrived from Goa) also came over and Chasambra, owned by Oren and Leslie. Chasambra arrived in Cochin at the same time as us, taking 50 days to sail from Eritrea. She is Israeli registered so cannot stop in Yemen or Oman, plus they hit a bad storm, making it a very long journey.

With Gavin on board we planned to go sailing. In the meantime Paul had plucked up the courage to have some serious dental work done (the prices here are nowhere near as frightening as in the UK) which delayed us a bit. Also, the terrorist attacks in Mumbai have shocked everyone, and have made the authorities very nervous. Rumours were rife about restrictions on vessel movements during the Volvo Race and along the coast. The Indian authorities are not used to yachts wanting to cruise the coast so we were advised to ask for a permit from the harbour-master to conduct sea trials. In the event, the harbour-master politely turned down our request and advised us to carry out the full clearance procedure instead. It was not a big deal for us leaving but means that on our return we will have to fill in another mountain of customs forms.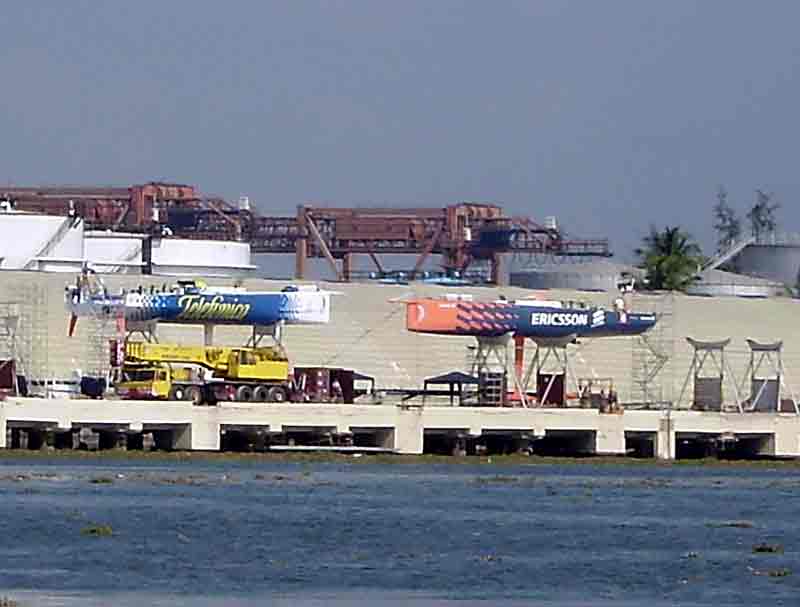 The first and second Volvo 70s hauled out

We left at dawn on Thursday, which was soon after high tide and avoided the need to plough through the mud to get to the main navigation channel. Once out of the harbour we headed north and with little wind only made about 20 miles by the late afternoon. The shoreline is gently shelving with a nice muddy bottom so we simply dropped anchor about a mile off the beach and settled down for the evening.

The coast of India is not somewhere to come for solitude. Fishermen in particular are constant visitors, both when under way or at anchor. We were soon engaged in the purchase of a fish for supper. The smallest on offer turned out to be a bigeye jackfish, which tasted very good when filleted and cooked in wine. We were also visited twice by the local police who wanted to see our passports and check we didn't have any terrorists hidden on board.

We were not totally surprised when we were woken just before midnight by a coastguard patrol. Eight men in a large rib came alongside and asked to carry out an inspection. Four boarded while the other four went over to Tamata, who were also anchored nearby. The paperwork was soon completed and we were told that because of the terrorist attacks in Mumbai, the local police were asked to report sighting of any unusual vessels. Hence they were required to come and check us out.

While with us the coastguard rib developed a problem with it's outboard engine. They thought it was a flat battery. Their mother ship was some way off and couldn't come to get them because of insufficient depth. They asked if we could tow the rib back! We had to wait over an hour until the off-watch crew was woken up and another rib came over with a mechanic and another battery. It turned out that their starter motor was jammed. Eventually they left at 1.30am.



Thanks to all our patrons - you know who you are!

There wasn't much wind forecast for Friday so we stayed put for the day, knowing that we should be safe from further investigation in that spot. Yesterday we sailed north again in light breezes and tried out our new gennaker for the first time. It worked well and we are happy to have a lightweight downwind sail on board again. However, we still only managed another 20 miles and anchored off the coast again.


---