Haihe

Winya_wynah
Sat 13 Mar 2010 20:29
Last time we visited the Cormandel Peninsula the weather was not particularly good,
this visit was a vast improvement as far as the sunshine was concerned.
The white sands of Haihe beach, looking North towards Cathedral Cove.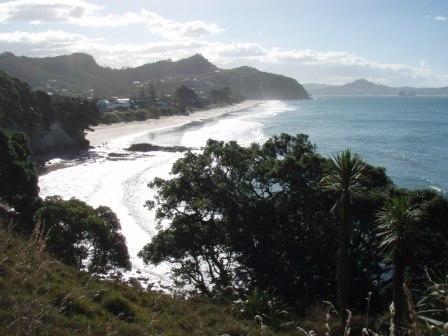 Cathedral Cove, another tick on our 101 must do in NZ list. :)
Then to the south there is Hot Water Beach, at low tide visitors can usually dig a hole near the rocks, let it fill with hot spring water, then sit and relax in the warmth of it all...
With a brisk wind coming from the SE for the previous few days the neap tide could not go far enough out and at low tide (8am) surf was still crashing onto the rocks,
a quick dig, or foot shuffle, then stand with hot toes until the next wave knocked you off your spot, was all we could manage!
Hot Water Beach 'on a calm day' has been moved to the list of things to go back to on the next visit to NZ!
---