Queenstown & Skipper's Canyon

Winya_wynah
Thu 4 Feb 2010 09:03
A trip to Queenstown wouldn't have been complete without a ride up in the gondola to take in the view and try out the luge!
No.1 gently cruising down the scenic track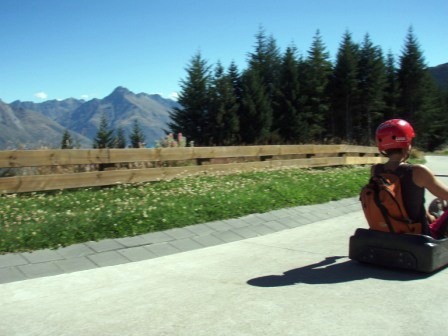 & the Skipper whizzing down the advanced track!
Followed by a day out in Skipper's Canyon.
A tour in the 4WD along the road to Skippers. The road is single track, built for horse and wagon, cut from the rocky walls of the valley. The most difficult section only 200m long took 2 years to build. The road was necessary to transport large parts of gold mining machinary into the canyon.
Those who have seen the 'Lord of the Rings' movies would recognise many of the locations we visited.
Next up was the Jet Boat through the canyon, these boats need only 4 inches of water (under the boat) and our driver Ashley got as close to any wall, rapid or overhang as he could to thrill the passengers. The whole thing is taken at 60 - 80 kph! The 360 degree turns between high walls in narrow parts of the canyon were fun but wet.
This cut was made by miners to divert the river and creates a fast flowing narrow rapid to test drivers skills.
Another view of the same cut shows the old river course around the bluff,
the water was diverted to allow the miners full access to the old riverbed and any gold therein.
This photo was taken from a bridge created on top of a water pipeline across the gorge. The straight shadow across the picture is the bridge, the blob in the shadow is us standing under a shelter mid bridge. The shelter was erected to cover what was for several years the world's highest bungy jump! Thankfully now it is not in use as the higher bungy in Queenstown has put it out of business.
---