Martinborough and more wine.

Winya_wynah
Sun 3 Jan 2010 04:01
We are staying at a 'bach' prounounced 'batch'. An NZ cross between a beach hut and a summer house.
Baches are often on the beach although ours is on the edge of a vineyard!
In fact almost everywhere in Martinborough is next to or in a vineyard, many of these have cellar doors open for tasting and some sell food. As you can imagine it is a difficult place to stay!! At least, difficult to stay and not put on pounds.
Our bach and garden view.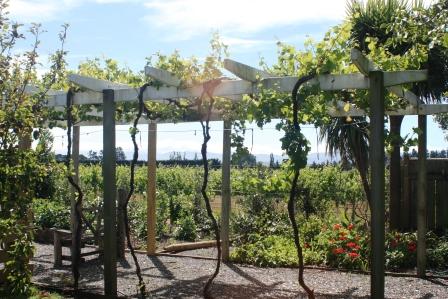 There is no cooker in the bach only a microwave so the Skipper is increasing the BBQ experience, lamb chops, sausages from the local butcher etc. always do well, but now blueberry pancakes indeed!
Cycling is the perfect way to get around to taste all these wines.
The only wobbling along on bikes so far has been practicing cycling along 'no hands', just testing.
Then the serious moment...
and later in the day fine dining!
---