Surfing that Sand!

Winya_wynah
Sun 29 Nov 2009 03:36
One of the many things we have done since zipping across the valleys is sand surfing
We took an organised tour to 90 Mile Beach & Cape Reinga Lighthouse.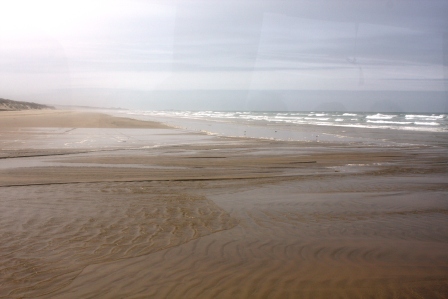 Our bus driver for the day was Barry, full of local knowledge about everything we passed through and with a relative in just about every town too, we were in good hands.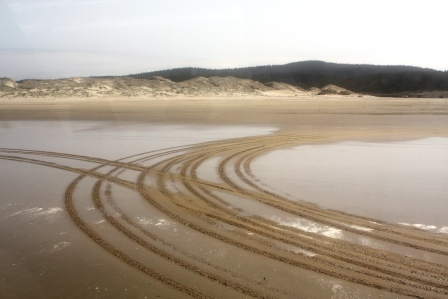 Barry informed us that a high tide was rushing in so we had to step on it in order to get through the bluff in the coach, otherwise we could expect a beating from the incoming tide. The bluff is small rocky outcrop on the beach, which narrows the sands where the bus is able to drive through on it's way to the furthest point North & the Lighthouse, miss this and you have to turn round and rush 40km back to the nearest exit. When we passed through the water had already reached the rocks and we felt the bus dip down into the gully as we rounded the point. Fortunately for us this only caused a small splash up the side of the bus, unlike the coach behind us who had been delayed 20 mins & took the waves up over the windows.
It was exhillerating racing down the beach - thank goodness we hadn't taken the hire vehicle!
We also passed a few vehicles that hadn't made it out of there.
Then onto Te Paki Quick Sand Stream and sand boarding!
Going up the sand dunes is actually the hardest bit,
Here she goes...
up up and up she goes...
first to the top!
coming down you just have to lift your feet off the ground and wheeeee!
Lift the board at the front if you want to go faster!
and stop!
Bit off course!
As we continued North to the Lighthouse Barry regaled us with Maori Legends.
This is the place where the Spirits of the dead leave the land on their final journey to the underworld. So family & friends can visit this sacred place to bid their final farewell to loved ones. Barry sang us the Maori greeting to the Spirits & their world.
Cape Reinga is also where the waters of the Tasman Sea & the Pacific Ocean meet.
---