Stuart's 'Little' blog

Winya_wynah
Sun 25 Oct 2009 00:16
Hi My name is Stuart, Stuart Little.
I have just completed my first passage aboard Winya Wynah as a cabin boy.
Below is a picture of some of my ship mates, resting in the Saloon.
Here I am at the helm
I had to wear a safety harness at all times on deck
A spot of sunbathing with Lover Bear and Dily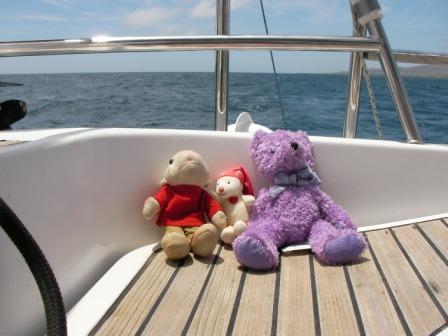 Here I am about to go on night watch with Lou
Keeping the crew fed was a big part of my job, preparing to bake a cake
cake mix ready to go into the oven
yum that was good!
Back at the wheel, whilst the girls are fishing for supper
Hanging out with the banana's
Skipper sent me up to fly the flags, as we can now see land,
fantastic view from up here!
New Zealand Ahoy!
What a great adventure! Now relaxing in Bay Street, before my flight home.
---