South Island

Winya_wynah
Mon 11 Jan 2010 09:18
173:76.9E 41:28.7S
Well we have made it to the South Island. Luckily on a relatively calm day between weather fronts! The ferry leaves North Island from Wellington, driving toward the ramp we felt quite at home, painted over the old name of the ferry was 'Pride of Cherbourg'.
This picture is in Marlborough Sound as we approached Picton at the South Island end of the journey. The number of 'white vans' coming off the ferry, usually rented campers, is evidently a regular source of amusement to the people of Picton.
This cycle sitting atop a large water tank was our sign to turn off the main road towards Sawcut Gorge.
The track to the start of the walk to the gorge is 9km of gravel, it's been dry and the van, bikes etc. were all completely covered in dust.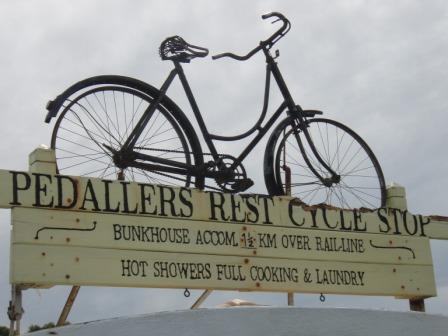 The walk follows the river bed, and crosses the water about 20 times, fortunately the water level was not high but with wet shoes these rocks get very slippery. Only 10ft wide with rock towering above oiur heads we paddled through the gorge.
Looking up the gap between the rocks doesn't get much wider until almost at the top.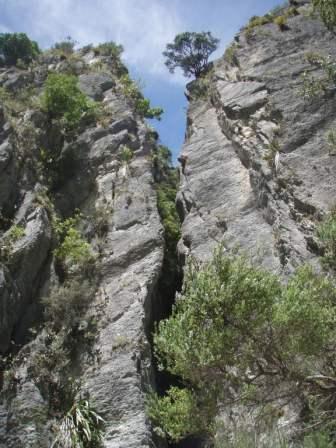 On the way back down stream, No1 slipped between some rocks, ended up with a sprained ankle and a collection of bruises to develop later.
A slower walk back but with regular cold water treatments we managed to get back to the van with no further problems.
The road and the Picton to Christchurch railway then follow along the coast to Kaikoura.
Spectacular bays and beaches open up on our left side the mountains rise up on our right side.
We are staying with our friend Bruce who lives outside Christchurch. We met Bruce in Fiji. He happened to be in the yacht club having lunch as we arrived at Vuda Point Marina, he even took our picture! We met him later at the hotel next door where they have a half price pizza night (all the yachties go). Chat,chat, chat we're all going to meet up in NZ...... so we did, and we now have a picture of Winny entering the marina.
Bruce took us to Akaroa, another harbour in volcano's crater where the side has been eroded or blown out and is now a well protected harbour. The town has a mix of French and English street names as it was an area settled by French sailors (amongst others) involved in the whaling industry.
The wind was cold out there, when we went out on a tour of the bay on a catamaran, hence we are all trying to shelter in Bruce's jacket!
We saw Hectors dolphins, seals and a few blue penguins.
---