Caves that glow

Winya_wynah
Fri 6 Nov 2009 04:41
This morning we started our land tour from the faded glory of the Waitomo Caves Hotel.
First up was the Ruakuri Cave, where our tour leader Fash led us down the spiral walkway to the floor of the cave, like the baddies in James Bond.
Lit walkways take you through the limestone caves of stalagmites and stalactites,
through the magical underworld of the caves,
then on to passages lit only by the glowworms - no flash photography please!
In the distance we could hear the rumble of a waterfall, and the voices of those who had opted for the Black Labyrinth tour (or underground tubing). Fash had us all join up like a crocodile and snake along silently in the dark so we could watch them pass beneath us - think the Skipper would have liked to have been down there with them!
This afternoon we took a guided tour around the Aranui Cave.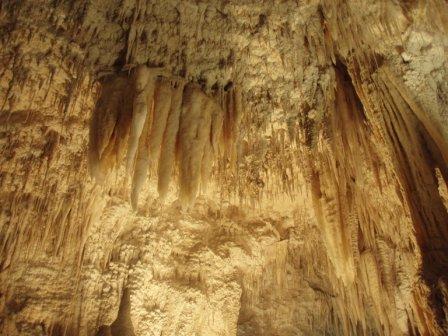 Then out into the bright New Zealand sunshine!
---