Marlborough Sounds

Winya_wynah
Thu 18 Feb 2010 02:43
From Havelock we joined the 'Mail run' for a day on Pelorous Sound.
on three days each week the mail boat delivers to different parts of the Sound, on Tuesday we went to the most western settlements.
Havelock is the 'World's home' of the Green shelled mussels, and evidently there are tons of them out there.
This vessel is harvesting and moves between row upon row of floats supporting the mussel ropes.
A continuous rope (110m) of mussels is hung from these lines, when ready the bouys are lifted, the rope cut away and hauled up the steel ramp. Here the mussels are knocked off and packed into the white bags. Other mussels and weed are scraped off the supporting ropes and floats back into the water, we think that's the smelly bit!
More later.
Old and young come to the jetty or row out to the boat to collect the weeks worth of mail.
This man had his weeks provisions delivered too.
This boy is only five and started home schooling a week ago.
He's already bored with it his Mum said, but he still helped carry the mail and the latest from the correspondance school back to the house.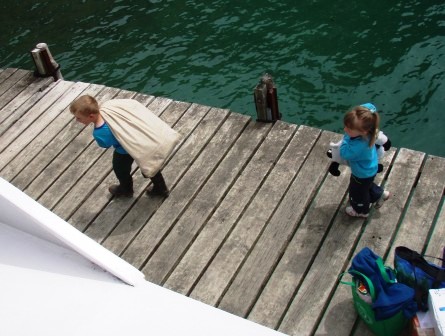 We said there were alot of mussels, on the way back into Havelock we saw three boats like this laden with the things.
See the size of the bags on previous photo, there must be nearly 40 bags on this vessel.
A night spent in the tent under the car port at our friend's (Erika and Eurgen, we met in Nuie) B&B overlooking the beautifully calm Kenepuru Sound and we were off again, after Eugen moved the trapped possum from under the van that is.
We drove to the mainland end of the Queen Charlotte Track which winds it's way along the strip of land between Kenepuru and Q Charlotte sounds, just above E&Es home. Hopped on the bikes and spent a few hours cycleing to Misteltoe Bay and back.
Sometimes through thick bush and sometimes opening up on the edge of the Sound to see the view.
Nearly all the walkers jumped out of their skins when they heard the only bicycle bell in NZ just behind them!!
---