Magic Jim

Winya_wynah
Sat 24 Oct 2009 06:57
Hurrah we made it!

Finally we defied the elements and closed in on NZ (after 3 more days at sea then we had estimated). The wind died as we crossed the Bay of Plenty, so motoring we set a course and ETA hoping the Skippers calculations were right, & there was enough diesel and the engine would hold out. The paperwork was all filled out, crew lists prepared and any fresh fruit and veg we had left was over the side out to sea. We were ready.
Time for the Chiropractic conference....
With only the occasional Albatross sitting on the water, taking off or flying past we pressed on.

The sunset was spectacular, actually enhanced by the rain!

We arrived, as is Winny's norm, in the dark. Unlike the norm we had local back up in the form of Ali's Dad, Jim, he gave us the pilotage into the harbour. Then it was a case of follow the lights this way and that to find the Marina at the end of the line. Fortunately there were no other boats around large or small to confuse us but lights from the docks and town beyond hid the marks occasionally. Jim was on the fuel dock 'flashing' (thank goodness it was dark!) and we parked up on time 10pm, to meet the customs and MAF (Ministry of Ag & Fish) officials he had managed to talk into coming down to check us in at such a late hour.
Three cheers for Jim...
Our spirits had been low thinking we were destined to anchor overnight and get checked in early Saturday but a call to Ali from Jim sent us all jumping around the deck when he said we could get in and do the paper work late Friday.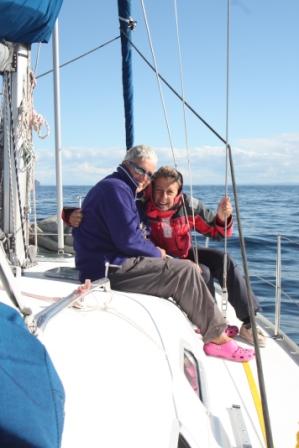 Winny is now parked up in F37 having a well deserved rest after looking after us all this way.
We on the other hand seem to have moved in with Ali's parents for the weekend and are enjoying the luxury of hot running water, open fires, a pantry full of delicious food and a washing machine has been on constantly since we arrived!

---