Niue!

Winya_wynah
Sun 4 Oct 2009 08:20
Niue is a Limestone lump that rises up out of the ocean. The 'Rock of the Pacific'. The whole thing seems to have started as coral and lifted from the seabed at different times, so has layers of different ages. The limestone is porous so there are no lakes or rivers but caves with stalagmites and stalagtites. No rivers means no run off so the ocean surrounding the island are crystal clear.
This bay on the West side is a favourite with the returning whales.
On the East side it's more windy and cold! Looking carefully beyond the skipper you will see jagged pinnacles of rock characteristic of the west coast.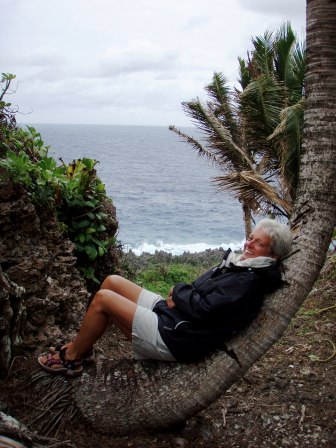 Below the pinnacles are more caves through the opening we looked out to the present reef.
Looks quiet but the surf was strong at times as in next photo, got a little wet as the spray was forced through the cave.
A short walk and a steep descent of the ladder led to a sandy oasis, Togo Chasm, Totally surrounded by jagged rocks this white sand 'beach' is complete with drift wood brought in through the cave opening above by the highest tides and the roughest seas.
Cocktails at the Matavai resort, this is the 'Itchy Whale'! The fish and chips were excellent, no haddock though fresh tuna in batter the night we went!
---