Dunedin and the Train

Winya_wynah
Sun 17 Jan 2010 04:59
Dunedin is the 'Scottish City' on the East coast of South Island. Having driven along the coast roads to Port Chalmers we crossed the old railway many times as it to weaved it's way from Palmerston and Dunedin. A spectacular train journey to be sure but we felt we had done that so we elected to travel inland through the Taieri Gorge. This line was built to serve the farms and gold mining communities of Otago and the section through the gorge is now busy with passenger/tourist trains. The next section has been transformed into a cycle track viaducts and tunnels included, with pubs, B&Bs and cafes along the way.
No1 so pleased to see the sun again was almost cut in half by the old windows.
Now pulled by a 1960s diesel engine, train buffs evidently travel from all over the world to ride this train. Our carriage was straight out of a cowboy film, any minute I expected John Wayne to gallop up along side, leap athletically aboard and then a gun fight to break out on the roof.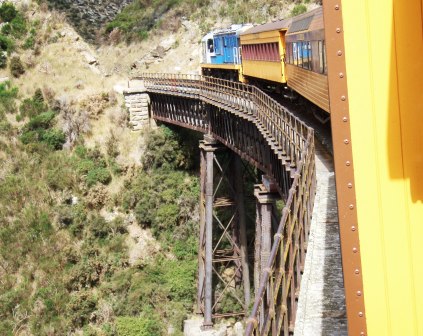 The track runs precariously along the edge of this gorge.
through 12 tunnels and over bridges and viaducts. This viaduct is 97meters long and is the largest wrought iron structure in the southern hemisphere!!! The largest in the northern hemisphere is the Eiffel Tower. It's an education!
---