Birthday Part 2

Winya_wynah
Sun 22 Feb 2009 17:53
Then set off to Vigie where M had booked a table for dinner at The Coal Pot!
Only where to anchor was the question - but the Restaurant assured us we could come alongside...
Oh and is that another cruise ship (9 in 3 days we've seen) and rain rain rain!
and does it look a little shallow in our overnight anchorage? Well the GPS put us on the land! (Winny is the little black tear drop shape - the land is yellow.)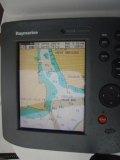 and Alyson's lead line said that that wasn't too far wrong! (6' 6'' off the side away from the dock, good, 3' 6'' off the side next to the dock, not good!)
But onward dinner and a shower and a frock later
and we were ashore!
Dinner was very good and the wine flowed.
---