sailing at last

Winya_wynah
Sun 14 Dec 2008 23:13
Had another trial day today, the water mode of Duogen. Seems we got it right in the end had a good sail down from North Sound under full main only so kept between 5.5 & 6.5kn and tried several points of sail, seems to perform very well, heeling over to port and it can break the surface in a swell but with a reassuring splutter it buries itself again and onto the next swell.
Photos for those interested in how blue the water is and how sunny!
Sailing at last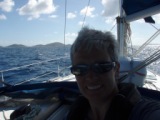 Duogen at work
Tomorrow we have more kit arriving and so tonight I'm in Trellis Bay (nearest to airport) but in winds that are stronger than the last forcast I heard anyway. Rock and roll.
---