Söndag morgon 0230 position 20:04N 30:08W

Natibou
Hans and Monica Ahlinder
Sun 22 Nov 2009 04:58
Nu har vi kommit in i passadvindarna på riktigt, det blåser nu stadigt 22 - 24 knop (cirka 11 - 12 m/s), och vi har två rev i storen och genuan också hårt revad. Båten går fint, och allt fungerar bra. Ibland så träffar en större våg båten underifrån, och då hoppar bordet till och det är lätt att spilla ut kaffet när koppen dansar på bordet!
Idag blev det Janssons frestelse till middag, med spanska "ansjovisar", inte som hemma men det var gott ändå. Igår slog vi 24 timmars rekord med Natibou, vi gjorde då 202 nm på 24 timmar (1000 - 1000) mellan två roll calls på radion. Vi blev lyckönskade av alla andra båtarna, efersom vi var första båt över 200 nm på ett dygn, hitills.
Skickar med 3 bilder.
Vi har bilder på våra kära i huvudkuppen + en fin "tavla" som en äldre tant gjorde åt oss alla BWR seglare i Gibraltar. Det är ett collage på alla båtarna som deltar, kul!
Pappa sitter på bommen och dummar sig, mamma styr i solskenet med "rätt utrustning" på sig enligt skeppar instruktionen - livsele kopplad, automatiskt uppblåsbar räddningsväst, MOB larm på handleden och ett "strobe" light på selen också. Är hon inte duktig?
Vi passerade just nu "pointe magique", the magic point, i Atlanten efter cirka 900 nm från Lanzaroet och en vecka opå havet dvs latitude 20' North and longitude 30' West. Bästa vägen till Västindien från Kanarieöarna är det klassiska utrycket (redan från Columbus tid) "Segla SSW i cirka 900 nm, tills smöret smälter, då svänger du västerut tills du är framme". Den moderna varianten är att just 20/30 punkten har visat sig vara en bra avvägning mellan att hitta starka bra passadvindar, men inte behöva gå en mycket längre sträcka söderut ner mot Cap Verde öarna. Distansen blir då teoretiskt cirka 2700 nm, men i praktiken kommer alla båtarna att ha minst 3000 nm i sig när vi kommer fram till Anigua i västindien. Så nästan 1/3 avklarad - bar 2/3 kvar...En första bedömning på när vi kan komma fram är runt den 2 December, stay tuned for an update.
/Hans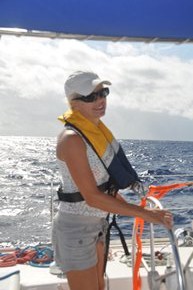 ---