Port Douglas - Part II

Zipadedoda of Dart
David H Kerr
Thu 18 Sep 2008 17:46
Renting a car in Port Douglas was an interesting exercise. The very helpful lady in the Marina office, Marie, had told us where to find all of the car rental companies in town. It was rather like "car rental street". They are all together and some 5 minutes walk from the marina. First stop was Budget rent a car. The charming young lady in the office there rather apologetically advised me that they had no cars…at all! Next up. Avis. Well they may try harder. But the office was full of customers, some of whom did not seem too happy, so we ducked out of there to the next one. A local chap with the novel name for the business "Paradise Car Rentals!". He was a bit gruff but had a Hyundai Getz available. Bright yellow too, so no chance of loosing it in a crowded car park. This was a really great little car, in excellent condition and we managed to do 300km's in one day. What amazed me was it only took £14 (AUD28) to fill the tank at the end of the day.
I asked the same gruff chap for his recommendations about what to go and see in the area. Quick as a flash he pulled out a local tourist map and marked up a circular route on it and his suggestions about what to see. This was going to be an action packed day!
The first venue to be visited was Hartley's Crocodile Adventures, some 25km south of Port Douglas. What a treat this turned out to be! This is a large venue,  that covers several square kilometres. As well as the adventure park there is also a commercial Crocodile farm. The theme throughout was "preserve the Croc", and all the other threatened animals on the planet too!
Our first adventure was to experience the feeding at one of the large pens. This is a swamp like area,  that houses some 35 mature Crocs. At the waters edge was a small covered staging  area with raked seating for around 100 people. An essential part of this being a one metre high, strong wire fence that angled out at 45 degrees at the top to stop the crocs getting too excited and jumping out of the pen! The keeper gave us a very thorough talk about crocodiles and in particular the salt water crocodiles that are keep in this area. These particular crocs are indigenous to Queensland. Two of the largest male crocs in the whole park are kept in this pen. They have very descriptive pet names for all the crocs. "Stummpie", was the third largest male, who has no front feet. These apparently being lost during a fight with another croc many years ago. Stummpie was thought to be over 50 years old. Then there was "Spartacus" the Alpha male for this group. The biggest male on the whole site is affectionately known as "Ted". He is apparently 5.3 metres in length and weighs in at 500 kilos. He is in his late year now, but still active in the mating department, despite various disabilities due to his Octogenarian status.
  After you dear….no, no I insist…after you. There is bound to be more?
After this show we moved on to look at the feeding time for the fresh water crocs. These are much smaller and a begin species. They have (virtually) never been known to attack humans.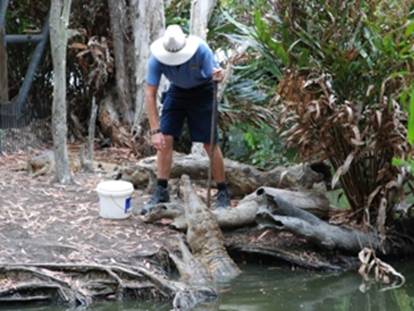 "Come to Daddy"
As you can tell from the fact that this "keeper" is in the same pen as these little chaps, they are definitely much more friendly that their much bigger cousins.
Once we were finished here we moved on the boat tour around another lagoon, where they get the Crocs to perform, and this is where the females also build their nests.
And perform they did……………………
   "Just another foot and its MINE!"
To put the above picture in context, the Creature you are looking at is just a around 15 feet long and probably weighs in the region of 350 kilos. And here he is jumping for a morsel of chicken. When you consider these guys are fed several times a day, their enthusiasm is quite surprising. It is also worth noting that salt water crocs can live for months without eating.  No wonder they have been living successfully on the planet for thousands of years.
The other delight in this park was the variety of other wild life. Some of it moved in naturally to scavenge off the croc left over's.
Like the Jaberoo seen below….
    "Oh my dear, I do hope the crocs have been well fed today………"
This a large bird. Somewhere between 3 and 4 feet high, and beautiful colouring.  Looked like a large colourful Heron with the same feeding habits. Which given the fact that the crocs hunting tactic is to lurk in muddy water, at the waters edge semi-submerged, waiting for other animals (AKA food ) to come to the water to drink or forage for food. They then leap out of the water in a surprise attack and drag the poor unsuspecting victim in to the murky depths to be drowned and then eaten.
They had Black Swans, Teal, Night Heron and all manner of other small birds. They also had  the obligatory Koala bears……
  "Please leave me alone. Can't you see I've only had 23 hours sleep today!"
And in their animal hospital they had a collection of damaged Kookaburras……
  As you see from the beak, another red meat eater.
After all this excitement we stayed for lunch at their excellent restaurant with panoramic views. Jennie had a stunning prawn and avocado salad, whist I slummed it with fish and chips. Washed down with a nicely chilled bottle of Stoneleighs Sauvignon Blanc. At this point we were going to have a coffee to round off the meal, but we realised that the next venue on our itinerary was a coffee experience………..so off we went.
The Coffee experience centre in Mareeba is at first sight a rather industrial building, in an industrial area of the town. But as you enter through the main gate, you realise it is a total Tardis! We paid our money then got to taste 21 different coffees. Some them, it has to be said, were vial. What was a complete revelation to us was the fact that 90% of Australian coffee comes for this area. They also specialised in chocolate. Well I am not a great lover of this well known addictive drug. But, these were just divine! They had all sorts. But the best of the bunch (which we all great) was the Chilli dark chocolate. We didn't buy and coffee here, but we sure did indulge on the chockie front. The fridge still has lots left in it, which is most surprising given how moorish they are.
But the most enduring memory of this site was the museum. Here they literally had thousands of coffee memorabilia from all over the world. A truly fantastic collection. BUT, what a sad person…..imagine spending your life touring the world collecting anything to do with coffee. This was a complete gem of a site. But by the end of the visit we were "flying" on caffeine so we made a mad dash to try to get to Mossman gorge before it was dark. 
This was quite a hike, so we had to drive pretty fast. But the Getz was up for it and the roads up to the plains above the rain forest were windy but excellent. Once on the plains it was dead flat and straight roads so we made excellent time. There were many grassland areas with just loads of Termite hills, as well as swamp lands and plantations and winery's. We also past a couple of villages where the population was largely Aboriginal. First time we had seen any Aborigines since we arrived in Oz.
We arrived at  the car park as the sun was going down, and the heavens opened. So we donned the foul weather gear and headed for the gorge, which was a relatively short canter away..
  Mossman Gorge in the driving rain
Mossman Gorge is part of the Daintree National Park. This is a massive national park and this is a tiny section of it. The river is home to quite a wide variety of wild life, including Turtles.
There was a "string bridge" across the river. We took pictures on this of each other, but it was swinging about so much they all came out blurred. So the picky above was the best we could do in the teaming rain………
Then we headed back to Port Douglas for a nice relaxing evening as we were both done for after a very full and entertaining day.
The following day we planned to head off for Lizard Island. But in the event the weather was so "pants, again", that we delayed for 24 hours.
So the next blog will be all about Lizard Island.  After that we went "over the Top", of Australian that is. Around Cap York and into Red Island for some R&R.
Right now we are on passage from Red Island across the Bay of Carpentaria, heading for Darwin.
---