Antigua - Part 2 (From Bequia 13:00:19N 61:14:57W)

Zipadedoda of Dart
David H Kerr
Tue 1 Jan 2008 22:27
So after much boat maintenance and partying in Jolly Harbour (AKA Mosquito Alley). We moved around to English Harbour and moored stern too on the historic Nelsons Dockyard.
The one thing we most definitely do miss about Jolly Harbour Marina, is Peter's Restaurant. The barbequed lamb chops and T bone steaks are some of the best we have ever had. As for their cooked farmhouse breakfasts…………yum! The staff are great too, and we now have staff Polo shirts to remind us of the happy evenings and mornings we spent in there.
View of "Peter's" from our berth.
Every Sunday in Antigua there is a public party (called a Jump up) at Shirley Heights. This is the highest point on the island and the views are truly amazing.
English Harbour in the foreground with Falmouth harbour behind.
The event starts at 1600, with Rum Punches and a Steel Band, with the option to by a meal from the various stands there. There are also hawkers selling all manner of tee shirts, jewellery etc. All very colourful.
Whilst we were there a monster thunderstorm came through and we all got wet, but the resultant rainbow, and sunset was awesome. The views over Guadeloupe were also something to behold.
The steel band was replaced by the Reggae Band at 1900, and things really hotted up. The whole square was full of writhing and jumping dancers just packed together and intent on serious fun.
WE left the party at around 2000 to go to the HQ Restaurant and Bar in one of the old buildings in Nelson's Dockyard, where we were joined by John & Jane from Penelope III for a wonderful grille lobster dinner. They have a French chief and live music. It is a most enjoyable venue.
Next. Christmas day in Nelson's Dockyard. This was the most enjoyable Christmas we have ever had. More of this in detail in the next update, but the following pictures should give you a flavour……….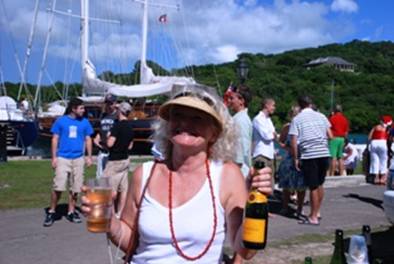 and all of this was before the Christmas lunch………..
---