Magical Moorea. Part I. 17:28:00S 149:48:00W

Zipadedoda of Dart
David H Kerr
Sat 10 May 2008 17:52
Well we finally escaped from the clutches of (Cr)Api Yachting and have now departed Tahiti and are on Passage for Huahine, which is another of the Society Islands, some 100nm North of Tahiti. After much help from Paul on Anahi and Alan from Jenny, the repaired Main Sail was fitted to the furling boom and for a brief time today we had it working well. Albeit with a damaged bottom batten pocket that Api Yachting failed to repair, despite my repeated requests to do so! Hopefully we can get that sorted in Raiatea next week when we go there for the new Biminis to be fitted. No wind now so we are rolling along under the trusty Perkins sail.
However, less of this whinging and techno drivel, and more of the meat and three Veg' (more of which shortly). On April 26th we departed the Papeete Town Qui and headed on north or Cook's Bay in Moorea.
Moorea, in common with all of the Society Islands is surrounded by a coral reef. There are two main Fiord like bays on the north side of the Island. Each of these is entered by a pass through the reef. These are both well marked and getting through was no drama at all so long as you kept a careful lookout. Whilst Bora Bora (also in the Society Islands) is billed as the most beautiful Island in the world, our experience so far means that it really is going to have to be something else to take that mantle away from Moorea! We headed for Cooks Bay, named after that intrepid traveller and adventurer who came here in 1769. Having passed through the reef we turned sharp left and picked our way through the rocks in to a small Lagoon where several other rally boats were already at anchor. Once again the water was beautifully clear, but this time with a bit of debris in it.
We spent a pleasant, if not rather exciting night in this anchorage, with various boats dragging anchors or swinging around in an unpredictable manner. So we ended up with Anahi tied up to us for the night, whilst we rode on our anchor and some 40 metres of chain. The next morning we set off for the main anchorage in the bay, which is opposite the Bali Hai Resort Club, near the north west corner of the bay. What a splendid setting it is too…………..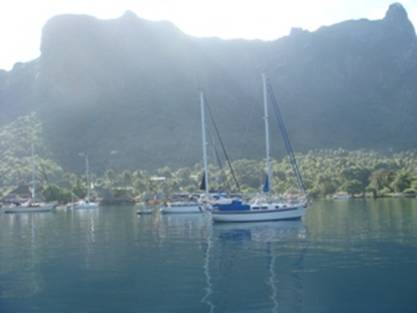 The Bali Hai was to be the base for Blue Water Rally control, and it was here that we were joined by Peter and Annette Seymour. AKA "Rally Control". It was also about this time that we received information that Tony Diment, Peters partner in BWR was not well and was about to go for a very major operation. Our thoughts were with him and his wife Christine.
Peter Seymour giving one of several Rally briefings.
This resort hotel is rather tired and a bit whacky, but the staff were friendly and it was a good base for lunch and breakfast. This was because the restaurant is closed from 1500 hours, except on Wednesdays, when there is Tahitian dancing and so the restaurant stays open…but you have to order your meal 24 hours in advance.
Beautiful Tahitian dancers captivated the men watching. The Ladies got a poor deal as the male dancers were a bit scrawny..
The other whacky thing organised by the hotel one evening a week (but no meal this time) was Crab racing.
This uses a portable U shaped track that is around 12 feet long and has corrugated tin at one end, the "bend", and then wooden cheeks and base. There are four crabs in each race, and the crabs have numbers painted on their shells. These are land crabs, about 4 inches across their shells, with vicious pincers. You are allowed to bet on a winner by paying 100cfp, and this gets you a number. The crabs are released at one end of the track then much encouragement, and discouragement is given to the racing crabs. This in the form of banging on the track by the assembled "racer goers" with flash photography which sends the crabs into reverse!. It is pandemonium. But the best part is that if your crab wins. You get back you bet. If you loose, you loose your bet. So what ever happens, the hotel wins on a 4 to 1 basis. Brilliant! It has to be said this is a bit cruel, as the crabs tend to attack each other and a couple of them lost claws during the three race event.
Moorea is about 60km around its triangular shape. So we decided to rent a scooter, and with the two Anahi's joined the "biker set" for a clockwise tour of the island.
Our timing could not have been worse, from a weather perspective. So instead of being intrepid "born again bikers" we spent a chunk of the time being "Soggy Bikers"
We did not let the weather dampen our enthusiasm for the tour. To begin with we wobbled along, as I had not driven a scooter for 20 years, so it took a while to gain my confidence, and to get the "crew" to lean into the bends rather than out!
Moorea is a dormant volcano…for 8000 years, with the highest peak at some 1200 metres. There are some exquisite beaches as well as challenging mountain hair pin bends. With Harriets persistence, we did find a beautiful beach restaurant, run by a very exocentric Frenchman. We arrived there a few minutes after the crew and family of Heidenskip who had rented a car. Mind you we nearly got thrown out before we started, as we rode right into the restaurant……..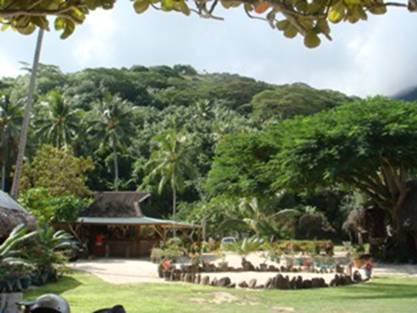 The food was just wonderful. Light, wholesome and very different. Mostly based on raw fish. But Paul did manage to find some Chicken………..
Oops, just realized I have used far too many pictures for the Satphone. But I will give it a go……more bankruptcy! To be continued in Part II, with the Birthday……………
---