More of Savusavu, Fiji

Zipadedoda of Dart
David H Kerr
Fri 18 Jul 2008 15:45
I mentioned in an earlier blog entry that the Savusavu Yacht Club and Peter Seymour had everything running like clockwork. This made a huge difference to the quality of our arrival procedure experience, as Fiji is famous for its bureaucracy and in recent times has clamped down very hard on yachties for breaking the rules, with massive fines for "transgressing".
Well to give you an example of how efficient "Dolly" and her team were. When we all arrived, we were each, in turn, lead to our mooring buoy by a boat man in a dory. He took our lines and lead these through the loop on the buoy and then back to us to secure. Then, he gave us all the forms we had to fill in for Quarantine, Health, Customs and Immigration.  Complete with carbon paper, which went a long way to relieving me of severe writers cramp, as everything has to be completed in triplicate.
The Yacht Club had pre-arranged for all of these officials to come down to the club and be ferried around the yachts to complete the formalities. This is unheard of. Normally you could spend half a day or more traipsing around Savusavu finding the appropriate officials and getting all the paper work and inspections organised. So form filling completed, th procession of (mostly) smiling officials arrived at Zipadedoda, did the necessary, quickly and efficiently. Relieved me of some dollars and went on their way……….
Just to give you three examples of the potential fun awaiting the loan visiting yachtsman.
You now need to give 48 hours notice

(in advance that is)

of your intended date/time and port of arrival. At the same time you need to submit a detailed itinerary of where and when you intend to go whilst in Fiji. Failure to stick to this may result in a heavy fine.
If you leave a port of entry, for a weekend or even to anchor out to go scuba diving or snorkelling, you have to clear out with customs first. Then clear back in again. Thus wasting up to half a day. Failure to comply results in a minimum fine of FJD 1,250, which about £400 to you and I.
If you were to keep your boat in Fijian waters for more than 12 months, you have to pay duty and import taxes that could amount to 50% of the value of your boat. So due to this and the Cyclone season, most boats leave once a year and go to New Zealand or Australia and return 3 months later. So just as we were due to arrive in Fiji, they changed the rules. Now, if you return within nine months of a single entry, you are liable in full for this tax.  If implemented, this will effectively kill the yacht cruising side off tourism in Fiji.
So as you can imagine we were extremely grateful to Peter Seymour and SSYC for making our lives much easier. Phew!
   Peter Seymour enjoying a "rather good lunch" at Surf N' Turf in the Copra Shed.
One of the "other" institutions in Savusavu is Curley. He is a Kiwi who has been in and around Fiji for 30 years. He runs two things of great interest to the visiting yachtsman. Firstly the Bosun's Locker, which is a services company for yachties. They offer all manner of services, including booking discounted meals in restaurants and providing passages plans in and around Fijian waters.  The second service, which is entirely free is his morning "skeg" or radio net. This is run on VHF channel 14 at 0830 most mornings. It provides detailed weather forecasts for the whole of Fiji, tips on restaurants, info on new rules, advice on all manner of activities and "happenings" in Savusavu, as well as organising master classes for such items as Maxsea software. He is witty, entertaining and definitively worth getting out of bed for! He gave the BWR skippers a briefing of how to get around Fiji and the best advice on plotting your way to Musket Cove, our next formal stop over in Fiji.
A trip into town is very revealing, as to the cultural mix in Fiji. There are just loads of small shops and several supermarkets (not quite Tesco's) sometimes with as many as 5 shops all adjacent to each other and all apparently offering the same items for sale. You can buy just about anything here. (For example we bought a new Vodaphone mobile, including 100 minutes free airtime for under £30).
It is just like being in the souk in Dubai or the down town local market in Delhi. Herein lays the clue. It is ALL run by Indians. They originally arrived four generations ago, brought in by the British to work in the Sugar Cane fields and processing factories. This was due to the fact that the indigenous Fijian was happy with his lot, and did not want to work hard in the fields, for very little reward. Whereas the Indian's are ambitious and hard working and grateful for any extra income.  Two very different cultural backgrounds, and sadly one that has lead to much conflict and political uproar over recent times. In fact the Indians are now in the majority and Fiji is (was) a democratic country. So when the Indian community won the democratic elections and came to power (with it has to be said at least one Brit Expat government minister), the indigenous Fijians rebelled. Now this is quite a moral conundrum. Because, if you have been brought up in a democratic country like the UK, we would all instantly say that an elected government should be allowed to govern, and the army has no right to over throw them on the basis of culture. However, I have to say that I can see the dilemma facing the indigenous Fijian. Because the Indian community has apparently made no attempt to embrace the Fijian culture or way of life. In fact it s clear, that given half a chance the Indian community would swamp the Fijians with their own culture, including language, customs, and business practices. So if left to the Indian community, the Fijian way of life would simply disappear. As the old saying that "Turkey's Don't Vote For Christmas", it is little wonder that the Fijian Army stepped in and took over the government.  Interestingly, one of the former (elected) Government Ministers is a chap called Robin, who frequents the SSYC. An interesting fellow,  in his sixties, married to a Polynesian/Fijian wife who is  half his age (number 4, I understand).  He was marched out of his office at gun point when the coup happened and is still in fear for his life.  It was certainly the case that in Savusavu town there was an atmosphere. But that said, everywhere you went you were greeted with the traditional greeting "Bula" and a friendly smile. This was especially true in the local fruit and veg' market that was simply bustling on a Saturday morning. Here there were both Indian's and Fijians working on stalls side by side. With the Fijian's specialising on local produce like Cava and the Indians doing the more general and imported produce.
One other note about Savusavu culture. If you like good, and I mean very good Indian food…. Then this is the place for you! All at refreshingly low prices. Our favourite Restaurant was the Surf N Turf in the Copra Shed. The chef here was the former head chef at the Sheraton hotel. The food was a mixture of Indian and International, with Lobster being a real speciality. If you ever come to Savusavu this is a not to be missed experience.
  Our second home and the hosts
A mentioned previously the SSYC had organised many events for us, over a 4 day period. One of these was on race day. After the coaching and kids racing, it was the turn of the BWR skippers to climb into the Optimist sailing dinghies and race.  These are tiny craft, and some of our sailors are very big guys. So this in itself was a feat of man over machine!
There were two "heats" and a final. There was betting on each race and on each skipper. Per from the Swedish boat, Pelle V won by a handsome margin.  The BWR Betting Shop was run by Dorothy from Neva, who managed to raise well over a thousand Fijian dollars for the SSYC fund towards their Beijing Olympic campaign.
This event was run from the SSYC bar and it was a terrific afternoon. Followed by a formal evening on the Copra Shed dock. There were prize giving's for the local sailors and afterwards the youngsters from the club laid on some traditional Fijian dancing for us, which was just the best dancing we have seen since leaving the Marquasas.
  The girl on the left was last years national under 18's champion sailor. Yes she dances brilliantly as well!
One of the youngest sailors in the club won all our hearts with her enthusiastic dancing and smile that could melt the toughest heart!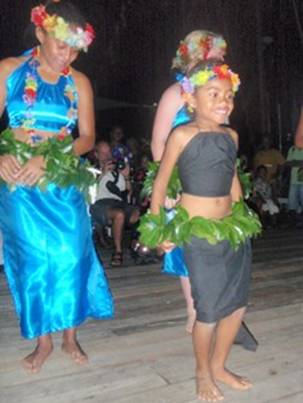 She was just adorable and we all wanted to take her home with us!
These kids had been rehearsing for this night for months and the fun and the joy they had was so infectious. We all just sat there with silly grins on our faces, soaking up the moment.
The last event that we joined (there were others like visits to the local Pearl Farm, but we had "done that"), was a trip to the Rain Forest. This it has to be said lived up to its name. But with rather more rain than we bargained for!! We got utterly drenched!!
So much so that photographing the forest itself was impossible, even with my waterproof camera! Worst still the so called waterproof case for the Nikon, turned out to have a leak. So I spent most of the following day drying it (the Nikon) out!
There were some beautiful wild orchids and we came across a nine inch long giant centipede…dead. I was relieved to say, after my last run in with a poisonous version of this family!
  Wild Orchids in the Rain Forrest
There was also a smattering of large Frogs. This was to be a lead into our visit to Makongai, some days later, where the wildlife is enchanting.
One final comment about our stay in Savusavu. The people are great. The yacht club punches well above its weight in terms of getting and training young potential Olympic winning sailors. Not forgetting the lively and entertaining bar. There is a heady cultural mix, and an air of instability. But to go there is very rewarding. So put up with the bureaucracy, and enjoy one of the gems in the Pacific……………
Next up. Musket Cove, Malolo Lailai via the Northern Reef passage and Makongai. A never to be missed experience………………………..but not for the faint hearted!
---