Tahiti 16:43:73S 151:26:61W

Zipadedoda of Dart
David H Kerr
Fri 23 May 2008 05:42
We are currently on the Town Quai in Uturoa, Raiatea.  We have hired three companies to finish and in some cases repair and replace the work carried out by Api Yachting in Papeete.
Our stay in Tahiti was something of a shock after the delights and peace of Marquasas and Tuamotu's. It is the administrative capital for French Polynesia.  So it is a bit like a large French City, only very hot! It is also the most amazing melting pot of cultures. Polynesian (Maori), European and Chinese. This makes for some very interesting shapes and sizes and colours of people. Sitting in a side walk café watching life go by is quite an experience here.
There are some 250,000 people living in French Polynesia, and the vast majority live and/or work in Papeete, the capital. When we first arrived the BWR fleet was "billeted" on the Town Quai. This is right next to the main "drag" so is very convenient for all the shops, restaurants, and facilities. That said it was very noisy, and the boat was filled with traffic fumes for most of the stay there.
  Down Town Papeete and the Town Quai.
In the past, rally boats had moored stern to the quai, but this time the local harbour authority went to the trouble of installing two floating pontoons. These were obviously put together in something of a rush because where the various sections joined together, they were at different heights and the gap was very wide at some points. This resulted in one rally crew member falling through the gap in the dark, loosing her shoes and getting nasty scratches on her legs and big bruises on her…..bottom.  The electricity supply was also totally unreliable, so we resorted to running the generator.
The good news was that we were moored at the end of the pontoon nearest the quai, stern too. So this was the ideal place to remove the old broken boom, and to have the new one delivered and fitted.
  The Old & the New (still in its wrapper).
KZ Marine, the makers of the Leisure Furl hydraulic in boom furling gear have been absolutely fabulous. They worked miracles in getting this new bespoke boom fabricated, painted to our spec' and fitted out in 8 working days. The real challenge for them was to get a heavy tube, 5.5 metres long, onto an aircraft. These are real "can do" guys, and they discovered that by not fitting it into the normal wooden packing crate they use, and wrapping it in foam sheet and bubble wrap, they could get it into the aircraft, on special charter. It cost a fortune, but Admiral Marine, our insurers, were wonderfully supportive and pulled out all the stops to ensure we would get the boom in time for our Papeete stopover. The local company Api Yachting (did on this occasion) listen to what was asked and did get a customs clearing agent lined up and a local shipping company so that when the boom arrived in Papeete on the 21st April, it was cleared through customs and on the dock within 2 days. It then became clear that Api Yachting was completely swamped with work, out of their depth,  and had gone into "frightened Rabbit mode". Loads of talk and no action and the broken record along the lines of "reasons why I can't"  , was heard loud and clear all among the quai. So, with the help of the other rally boats we took off the old boom, and then installed the new boom. I then found a local engineering firm to modify the boom tang fitting to the Vang and also to engineer some nylon bushes and nylon washers to replace those that had been smashed in the gybe. Then hey presto, a working boom!! That left the replacement of the blocks for the running back stays which I managed to source at NautiSport. Then all Api yachting had to finish was the repairs to the main sail and the replacement running rigging. That was because we had decided we could not face all the aggravation of dealing with him on the replacement Biminis.
Meanwhile, BWR had organised several events with the local tourist board, who are VERY keen to promote the Society Islands and Tahiti in particular. The reason being that  tourism is massively in decline here, caused by very high prices, a weak dollar and frankly a lack of smiling happy faces, from people who want to give you a good time.  So we were treated to a formal welcome by the Tourist board with lovely Tahitian dancers and free drinks. This was a charming evening and the only issue was that they ran out of beer rather too quickly and replaced them with Pepsi. This caught Hugh on Stargazer rather by surprise………..
  What! No Hinano????
Whilst I was working on the boat, Jennie and the other Ralliers "did" an around the Island tour. There were some wonderful sights to be seen and Jennie "bless her" ran amok with the camera, so I could "share " in the sights I missed.
  Tahiti views
Local Canoes on their tressels, under the Ironwood trees being only one of my favourites.
The Capital, Papeete, also boasts a thriving two storey market. It is one of the most airy and colourful we have ever visited.
The prices were just as colourful! But the variety and range of produce available was a surprise and if you looked hard enough you could find just about any food stuffs that you could possibly want….and some you would rather not think about!
Papeete has some very good restaurants, with excellent service and some with very good food. But beware……..…you sometimes need a mortgage to pay the bill. The best we found for entertainment, good food and great atmosphere was on the front and was a boutique brewery. It is called the Three Brassures. Best T Bone steak I have found in French Polynesia so far. Excellent live music and reasonable prices, washed down with home brewed beer or if you prefer, good red wines from Chile and Argentina.
The other thing we did find very positive about Papeete were the specialist engineering machine shops and the specialist companies doing things like any manner of filters for engines, fuel and water. So I took the opportunity to stock up on filters and to have a couple of special bits and pieces made that enabled us to get the generator fixed, during our second visit when we returned to Tahiti after our wonderful "holiday" in Moorea.
On our second visit we stayed in Taina Marina. This is a brand new marina that can take 500 boats. It has all the facilities you can imagine….except haul out, and storage ashore. The staff are great and the on site restaurants are very good with friendly staff. The Sun sets from here over Moorea are just breath taking. The water is crystal clear and there are exquisite tropical fish flitting around the small coral heads that have already formed on the concrete dock walls.
If you ever visit this marina and need a lift into town, call Leana the taxi lady who seems to work 24/7 and knows everybody and everything to do with the Society Islands….and more.
Whilst there, Brian & Margaret from "Our Island" arranged a 4 x 4 tour of Tahiti. This was in an open LWB Land Rover. It was a very full day and as it was a national holiday on that day, there were lots of Local Tahitians enjoying the sights. One of these was at a water fall, where there is a very deep pool and it is very popular for diving.  One local family who were at the Waterfall cum Pool, were having a BarBQ.  This, was true gourmet food, Tahitian style…….
  BarB Qed, Corned Beef…in the Tin.
The tracks on this trip are VERY rutted, very steep and lumpy and there is no way an ordinary car could do it. It was a great way to see the dramatic scenery on this Volcanic Island, and some of the wild  flowers were just beautiful. Especially the Orchids,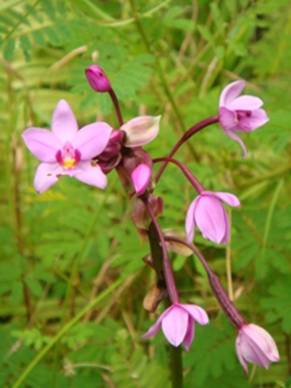 Would I rush back?….Probably not. But as a staging post for the rest of the WONDERFUL Society Islands, it is worth a pit stop. BUT, if you ever need your yacht fixed, and want friendly, can do, reasonably priced, efficient yacht services. Then in my experience you should head straight to Raiatea and give Api Yachting in Papeete the widest possible berth!
More details to follow….Soon!!
---