Tobago Cays 12:38:13N 61:21:68W

Zipadedoda of Dart
David H Kerr
Sat 5 Jan 2008 23:24
Early this morning, err well 0800. We were awoken by a vicious squall. Winds up to 30+ knots and hard driving rain. The wind generator was howling (and actually producing some power too). The good thing was that this did a great job of washing the salt off the boat and a good deck wash to boot!.
Once this had cleared and as I was supping my first cuppa of the day, a boat boy came by and offered us some fresh bread in the form of French Sticks. The boat boys here are very polite, and charming too. Unlike some other parts of the Caribbean where they are very pushy, bordering on aggressive. So I bought 4 sticks, which made a change from Cornflakes for breakfast.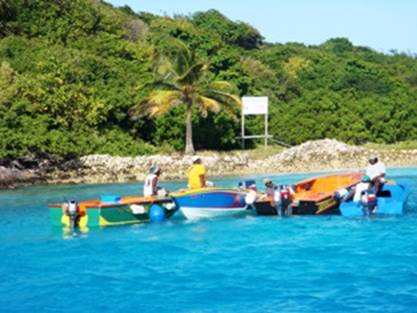 Tobago Cays Boat Boys, chilling out.
The other fun thing is that these guys are called Boat Boys, but most of them are in their 40's and 50's. In addition to bread, they supply ice, Water, Lobsters (at eye watering prices) and fresh fish. They will even take away you garbage…..for a price. Come 1600 they mostly zoom off to Mayreau or Union Island and return the next morning.
We went snorkelling on the reef this morning. Unfortunately the windy weather has created a strong surge over the reef. This made snorkelling over the coral tiring and a little precarious as the surge pushed us ever closer to the coral. That said we did see plenty of tropical fish. After a while we decided to move into more sheltered water. We were amazed at how murky the water had become in only 24 hours. However, we were soon rewarded by the sight of Turtles. We ended up swimming with one pair for over half an hour. So graceful and delicate, despite the armour plated shell!
Although we wore light weight wet suits today, we did get tired in the end, as there is a 2 to 3 knot current, plus surge. So before we got chilled from the strong wind we elected to return to the boat. On arrival we saw that the "Three Anahi's", had arrived (hallelujah), and so immediately made a date for them to come over to dinner tonight, together with Andy & Becky from Spectra. We have never had seven people for dinner before, so it will be a bit of a squeeze. But I am sure it will be fun…………….
On returning to the boat in the dingy, we had a minor disaster. I passed both sets of masks and snorkels to Jennie, who was on the transom of the boat, whilst I was still in the dingy. After a bit of fumbling we managed to loose Jennie's Mask and brand new snorkel over the side. To say Jennie was not best pleased about this would be a massive understatement. The whole anchorage was in no doubt at all about her disenchantment. So I did my best to rescue them, but failed on the first attempt. This lead to more shouting, from both of us now. So a full domestic was in play. Hey ho, can't beat domestic bliss.
Now this mask is not any old mask. First off it is a bespoke size to fit Jennie's narrow face. Secondly it has optical lenses fixed to the inside of the glass face. Cost a fortune, and without it Jennie would simply not be able to scuba dive or snorkel. So once matters had calmed down…..I set a floating safety line up. Note there is a good 2 to 3 knot tide rip through this channel, and we were already tired. I then donned a weight belt, and slowly edged my way along the safety line whilst peering through the water. The water here is much clearer than the reef, so I could easily see the sandy bottom, some 6 metres below. Joy, of Joys!!!. I spotted the mask on the bottom. It had not been taken away by the current as I had feared. It was then a duck dive and power swim to the bottom to retrieve the mask, and then a race back to the surface to grab the end of the safety line before the current took me beyond the end of it. By this time Jennie had climbed into the dingy, and was able to haul me back to the boat on the end of the safety line.
Lunch. We had this in the cockpit. More fresh French sticks, chased down with some hot garlic prawns and a glass or two of Vino Sol.
We had a visitor during lunch. In fact his mate came along too, once he was rewarded with some bread……….
This picture does not do him justice. He had a magnificent lustre to his plumage, and a livid yellow set of eyes. I am not sure what variety of species he was but I would guess a Minor bird, based on the song note he made.
All being well we shall be off to Palm Island in the morning, followed by Union Island to check out and to stay the night.
---