Darwin & Northern Territories

Zipadedoda of Dart
David H Kerr
Thu 2 Oct 2008 17:34
We arrived in Frances Bay in Darwin and completed our anchoring manoeuvre by 0930 local time on the 23rd September. 12:28:00S 130:51:00E
Before we arrived at anchor I had e-mailed AQIS (Australian Quarantine Inspection service) to advise them of our impending arrival. All yachts arriving in Darwin and intending to enter the Port or a Marina have to be inspected and/or, if recently hauled out in Australia, supply information on antifouling etc. In addition upon arrival you have to contact TEK Adventures, who will come along side and send down a diver to "disinfect" all of the boats openings. This includes, engine raw water, genset raw water and all toilets etc, where there is a salt water intake/outlet. In the case of the engine and genset, you have to run these for a couple of minutes whilst they "skush" the pink fluid through the system. Then you have to leave the systems inert for 14 hours before you are permitted to enter the marina of your choice. All of this apparently tortuous procedure is to prevent the infestation of black stripped mussels. These rampant little critters can grow to full size within 4 weeks and can produce a staggering 50,000 offspring in one month after reaching sexual maturity. If left unchecked the marinas and harbours would be clogged up and unusable in no time at all. So ten out of ten to the NT authorities for being so proactive and providing this free service. If you have not had an antifouling service within Australia or for more than 12 months, then they may even insist that your boat be hauled out and cleaned off. All at their expense. That is how seriously they take this threat.
It was great to be at anchor once again, and we thoroughly enjoyed this spot, as we continued to acclimatise to the heat and humidity of Darwin…man it is hot here!!
The anchorage was quite close to one of the main wharfs in Port Darwin. Which had a huge welcome sign on top of the roof……………….
We had booked into Tipperary Waters Marina for the following morning. Darwin has a big tidal range, up to 8 metres at Springs, so all of the marinas here (which are usually full) have a lock gate systems. We were called forward to enter the marina some 2 miles distant from the anchorage at 0715 on the 24th, having completed our "delousing". The entrance channel is very narrow, but the acting lockmaster John was very helpful and gave excellent directions.
Once in the lock the water pumps started to fill the lock and in no time at all we were elevated to the point where we could see our berth……..Heidenskip to be exact.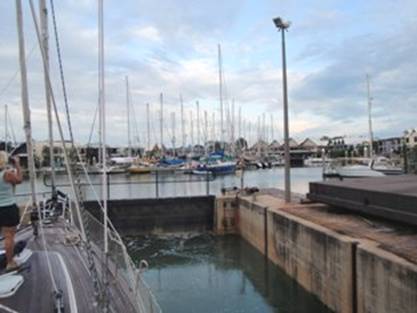 They were immediately in front of us as we exited the lock. Unfortunately, it was still only 0730 and Robert and Wendy were still in bed! So we tried to hail them on the radio, to no avail and then one of the other berth holders knocked on their hull to wake them up so they could take our lines as we came alongside. It was great to see them again after an interval of around seven weeks. We had a lot of catching up to do!!
This delightful marina was constructed eight years ago and is conveniently located, being a short 10 minute taxi ride to down town Darwin City Centre. The marina itself is surrounded by a mixed development of attractive houses and apartments and shops. It is spotlessly clean and very well maintained.
This was all the more surprising, because somewhere between 85 and 90% of the boats in here are liveaboards. Some of these have obviously not been to sea for a very long time. But everybody was happy and friendly and there was a really pleasant atmosphere to the place. They even went to the trouble of organising a welcome BBQ for the BWR on the Friday night………….another party………..
There was lots of bird life here too, and the local Shell Ducks (a protected species) were a real treat……………………They have completely white eyes.
Once sorted out, it was down to the business of getting our boat maintenance organised. Part of this was to deal with what was potentially quite a serious issue. The casing for the aqua drive coupling between the engine gearbox and the prop shaft had been punctured by the engineering company in Mackay when they re-installed it. This is a flexible coupling that is packed with thick grease to enable it to be flexible and absorb the engine vibration and reduce boat vibration and noise. The hole in the casing was spewing the grease around the engine bay. Had all the grease been emptied, the dive train for the boat would have failed……….So that had to be removed and a new part sourced and installed.
Paul Smith from Regional and Northern Maintenance Services Pty Ltd was very helpful and efficient and their engineer Neffa and his apprentice Rick arrived the following morning to start the work, very clean and very efficient. Replacement parts were sourced in Sydney and it was all fixed and sorted on a week. This was a big relief.
Then it was off to organise our Indonesian Visas, check in with Customs (who are also immigration) and book an appointment for clearing out, which was to be on the 2nd October.
Very near to our marina is the Dinah Beach Yacht Club. So that evening we walked there with Robert and Wendy, to enjoy wholesome food and drink at very reasonable prices and a live band. There were lots of BWR crews there and it was wonderful to catch up with everybody once again. Needless to say we turned this into another party!
Darwin itself is a new City. It has in fact been in existence for over 200 years, but was completely destroyed by cyclone "Tracy" in 1974. There are no old buildings here. There are a couple of remnants of old buildings which have been restored and/or absorbed in to modern structures. We were particularly struck by the high level of construction and investment that is going on here. This received a HUGE boost whilst we were there, due to announcement that a new Gas processing plant and field was to be constructed, with an estimated value of 12 Billion Australian dollars. Creating some 5000 new jobs and putting house prices up by 20% overnight!! So Darwin itself is a vibrant city with very good facilities for visiting yachties and a perfect spot from which to go sight seeing.
We were determined to "do" some tours, so the next day we booked a three day ourtback tour. Which was just brilliant. More Anon.
---