Antigua - Part 1 14:05:92N 61:31:05W

Zipadedoda of Dart
David H Kerr
Sun 30 Dec 2007 17:29
We simply had a ball in Antigua!!!
So much so that I did not have any time to "do" a blog whilst we were there. Consequently I am now writing this blog whilst on passage from English Harbour (Galleon Beach) to Bequia in the St Vincent & Grenadines. (Windward Islands).
I would have sent this last night, as it's a two day passage, but we ran into unforecast 35 to 40 knot winds and quite big seas, so sitting at a rolling keyboard typing was simply mission impossible! But hey man, the sun is shinin', and it sure is hot, hot………………………
So as soon as we had arrived in Jolly Harbour we arranged for all the various jobs to be done to the boat, ordered spare parts and arranged for them to be shipped in to Antigua. Which pre-Christmas in the Caribbean is a challenge in itself. In fact I think the Atlantic crossing might have been easier… ..only joking.
Then it was off on an organised around the island trip. This included the capital St John's and too many places of interested to touch on them all. However,
Devils Bridge in the North of the Island offered spectacular scenery and stunning water clarity.
Whilst Old Betsey's Sugar Cane Plantation was very interesting. Much reference to slavery and emancipation (I can hear Bob Marley again). And a fascinating insight into the past way of life in Antigua.
Nelsons Dockyard in English harbour is something else (more anon),
Finally we ended up at OJ's Restaurant and Bar on the beach, where we watched another spectacular sunset and had our first party in Antigua. (Ooops, actually our second party…..)
It was then back to Jolly harbour and time to progress the various jobs on Zipadedoda. These were many and varied and I will not bored you with all the details. Except that it is virtually impossible to obtain some European electrical parts on the Island. So you have to be brave and do things like replacing a din rail mounding Merlin Gerin 25Amp single pole contactor with a bulkhead mounting three phase unit…….and then spend two days re-wiring all the power switching system on the boat. But it works…….
The other essential is to have the boat fitted out with "local" anti-fouling. Goes by the name of Island 44 and kills all known marine creatures that might want to settle on your hull. Totally illegal in Europe and a must have in the Caribbean. Unless that is you want to tow along your own reef………..It comes in a very limited range of colours so Zipadedoda now has a red bottom. A very expensive one at that! Had the topsides redone with AWLwash and AWLCare. Courtesy of Bob Marley and Sailor and the team, in Jolly Harbour boat yard. Yes, those really are their names!
Doesn't she look great????
Tony and Christine Diment from the BWR organisers went back to the UK for Christmas for the first time in several years. So they arranged a last night out to remember. First of all we had cocktails on Heidenskip, as guests of Robert and Wendy. Then a fun time as guests of the TOT Club in the Antigua Yacht Club in Falmouth Harbour, followed by diner at the Calabash Restaurant on Galleon Beach. This turned into a serious party and did not end until the wee small hours………..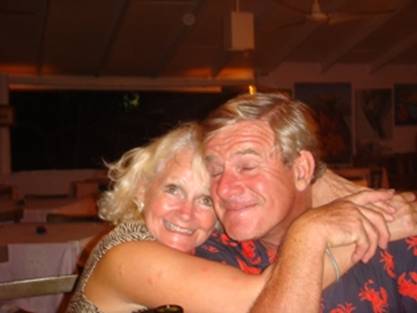 They say a picture is worth a thousand words…………………….how very true!!!
---