Rarotonga, Cook Islands 18:47:23S 173:32:66W

Zipadedoda of Dart
David H Kerr
Thu 12 Jun 2008 03:27
We are still on passage for the  Vava'u Group of Islands in the Kingdom of Tonga. The weather is absolutely dreadful, or as they would say in the Western Isles "Its a disgrace"!. The size of some of the waves is positively scary. Especially given the fact that they are somewhat confused and they break with a high volume Whooshing noise, from time to time. Some times right next to the boat. We are talking waves here. Not you wimpish things. These are big boys waves on Viagra! 
We are chugging along on Stay Sail alone (Thank goodness for the Cutter Rig) and still managing 6knots SOG, in winds averaging 25knots but gusting 40 to 45knots in the squalls. All being well we will be pugged up in Neiafu Harbour by mid morning Friday. (Our time)
Oh the other thing about this passage is that we moved to Tongan time and so lost a day! Very careless of us. Jennie was particularly keen to loose the day that we took the big "Greenie" into the cockpit and our lovely (now soggy) Saloon. So we moved from UTC minus 10 to UTC +23.  Didn't feel a thing! No dressing up this time either.
Anyway, after all that rambling. We had our last night in Raiatea with Michal and Lorraine from Blg Blue. They had invited us to join them in their hotel, the Raiatea Lodge, for diner. As Lobster and good company were on offer, how could we refuse! The young couple who recently took over this hotel are just delightful, and the building is almost in the Colonial style with a bit of Polynesian and a bit of Oriental. Sounds like a car crash, but it really works, and the ambiance was superb. As was the Lobster and the company. A memorable and enjoyable night out. I would not hesitate to stay there should I ever be back………..
The passage to Rarotonga was fast and furious with some great passage times and boisterous sailing. Though not restful for the crew who was once again performing juggling miracles in the galley.
The Cook Group consists of some 15 Islands, scattered over a vast ocean area in the south Pacific. Two million square kilometres to be precise. Larger than Western Europe!  Do you remember the Apollo Space Missions? Man on the Moon and all that? Well this is the area where they used to "splash down" the returning lunar capsules.
The Cooks Group is an independent nation, in association with New Zealand. Which I guess means that it is an NZ protectorate. All 13,000 residents have the right of abode in NZ and hold a full New Zealand passport.  It was a very strange experience (at first) seeing these incredibly friendly people who spoke English (not French) albeit with a New Zealand accent! These people are truly friendly. All smiles, laughing, happy and content. They are also deeply religious.
The other wonderful thing was we were back to sensible prices!! Hip Hip Hooray! Car rental at £8 a day (if you take it for three days). Mind you this was definitely not a Rolls Royce. But who needs one when the island of Rarotonga is only 32 km round??
The harbour is a bit basic. But with clean clear water….well relatively speaking for harbours. But there were loads of fish.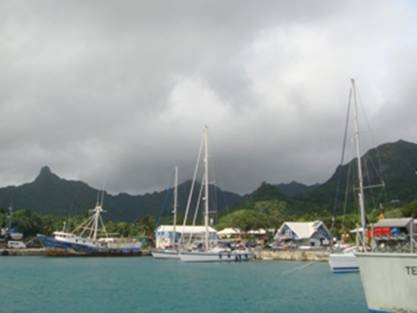 Avatar Harbour
But once you get passed the fact that it is a commercial harbour that permits yachts, with a welcome smile. You moor up, to laid stern too the wall. Great holding in sand and mud for the bow anchor.
It has most things you could ask for. A harbour master who is the immigration and customs officer as well. Formalities take 5 minutes, if that.  Oh, and one of the girls in the office gives you all the tourist information brochures and a map…for free. The pilot books tell you that all your fresh produce will be confiscated here, and that your boat will be fumigated. William, the Health inspector arrives on his moped, wearing shorts and a tee shirt and wellies. Asks you not to take your fresh produce off the boat. There is then a request for 20New Zealand dollars (which you get from the nearby ATM.) He then gives you your clearance certificate. All smiles and ear 'oles. Could not be a more charming port of entry if they tried! There is excellent WiFi access, waste disposal, and fresh potable water on the quay. The only thing they did not have was electricity. But this IS a commercial harbour! The leading lights through the reef are electric blue, so you can see them in any weather. Which is just as well because unfortunately the weather was Pants the whole time we were there. Rained A LOT, and overcast. But warm.  This harbour is subject to swell, and so you need to moor 5 or 6 metres off the quay. So going ashore in your dinghy, through all the mooring lines can be tricky. Several Ralliers took an unscheduled bath. Finally, if you want fuel. Just ask the harbour masters assistant. The tanker arrives within 30 minutes, and they are really helpful too. Diesel cost is around £0.70 a litre. Supermarkets, duty free liquor stores, restaurants, ATMs etc all within walking distance.
As mentioned we rented a car and toured the Island.  This involves getting a driving licence! So we both now proud Cook Islands Driving Licence holders. Looks just like the one in the UK. Only took 20 minutes to get one and 15 dollars a go. (2.5 NZD to the GBP).
Unfortunately it was so dull and over cast so there was little incentive to take pictures. But we stopped off at the yacht club (sailing dinghies only) on the south east corner of the island for lunch. Lovely club house come restaurant with a veranda right on the beach and great views to the lagoon and the reef beyond.
We tried the local beer, and then the NZ wine. Very nice and once again reasonable prices. The food was fine but not special. Staff were great.
The high point for me was when Dorothy from Neva managed to get an invitation to the Tuesday night dance rehearsals and lessons in the national assembly hall. So she promptly invited Jennie to go along too. In the end we were also joined by Sylvia from Rascal and Pam from Kaimin.
The hall was huge, with arena style seating on two side and a large stage on the far end. The drum band were in the middle on one side. They had about 10 or 12 drums from massive barrel like things down to small tree branch sized drums and even a metal biscuit tin! The rhythm could not fail to "get you moving"! We were all welcomed in and there were some real beginners. Toddles in nappies gigging away to the beat.
The leader then called for warm up dancing. There were four girls who were the leaders, one at each point of the compass as it were. So no matter which way the dancers were facing, they had an expert dance leader to follow. Jennie and Dorothy stood in amongst the youngsters and started to strut their stuff.
  Just getting into the warm up. Wiggle those hips!!
What was not made clear was that the so called warm up lasted for nearly half an hour! The drummers were having masses of fun and the dancers were most certainly warmed up! The girls were really doing exceptionally well co-ordinating the famous Polynesian Hip movements, with the foot steps and arm movements.
   Shakin' that Ass………….
The local girls were very encouraging to the BWR girls and then Peter from Neva joined in with the men's section……..But I manfully refused on the grounds that I had to take pictures………….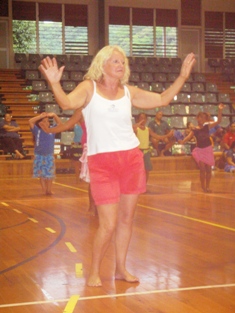 Ok I surrender……cream crackered now!
We had a terrific evening and we followed this with a great, fun night out with Peter & Dorothy at Trader Jacks, which had become the BWR HQ.
We had a great time in the Cooks Islands, well Rarotonga to be precise, but we were too big to get into Akataki which every one said was truly beautiful.  The people are just a joy and the Islands are very attractive, but not quite in the same league as the Society Islands for beauty.
Got to go now. I feel like a budgie that keeps falling of his parch and it is starting to hurt.
---