Crossing the LINE AKA Equator or maybe something else? 00:11:36S 89:08:40W

Zipadedoda of Dart
David H Kerr
Thu 21 Feb 2008 02:11
The weather Gods were kind today. Such a relief I can tell you. The boat had become so damp and we had so many wet clothes it was quit amazing. Just like sailing in the Western Isles of Scotland in Summer!! But the sun shone for us on our "Big Day", and it truly lifted our spirits.
The one really good thing about last night's storm, was that the wind direction was favourable for most of the time. So as previously mentioned, with a lot of reefing we managed to make good progress down the Rhumb line and so save fuel. Then this morning the wind and tide returned foul, and it was time to break out the last 60 litres of emergency diesel reserves.
This then gave us around 180 litres of fuel in the main tank, which we calculated would be just enough to motor all the remaining 150nm to Academy Bay in Santa Cruz. This was critical, because the forecast wind is on the nose all the way in to port. The set of the prevailing current makes tacking a last ditch option. Plus crew has had enough and wants some rest. So, Perkins …do your stuff!
As the Equator beckoned, the crew became quite excited, and was determine to follow tradition and dress up for the occasion. This we duly did (and in the end I really got into the swing of it), and prepared ourselves for the big moment.
We both watched the GPS counting down the seconds, and then the big moment arrived…….."The Southern Hemisphere …….Hurray and cheers to Neptune".
Whilst all of this was going on had been dressed up. Well actually cross dressed in an appropriate theme………Firstly Dead Eyed Jen the fearsome pirate…………………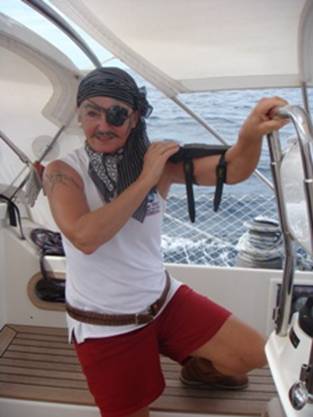 Where is that Parrot when you need it?
Now at this point I think it would be best if those of a nervous disposition looked no further. Those with young children should send them to bed ……….now. Oh, and lock up your animals…….
YOU HAVE BEEN WARNED…………………………….
My number is………………………………..
And this was before we guzzled a bottle of Verve Cliquo!! Cheers Neptune.
Davina Shellback.
---