Smir - Morocco 35:45:00N 05:20:00W

Zipadedoda of Dart
David H Kerr
Tue 23 Oct 2007 10:45
Yesterday the majority of the Bluewater Rally Fleet departed for a weekend jaunt to Smir in Morocco. This is an easy 27nm passage across the Straits of Gibraltar to the East coast of Morocco. The conditions were ideal for a first "fleet" trip with Easterly winds of 20 to 25 knots forecast.
This trip was also designated as an opportunity for every boat to test their SSB radios. We were honoured to have Tony Diment, the Rally Director of Bluewater Rallies on board, together with his wife Christine.
Extra crew was very handy
"The pressure"
We departed in the dark, before dawn, after a few slight hiccups, and then headed out to Europa point. By the time we were out there and past all the drifting tankers, it was light, so we hoisted the sails. Almost immediately we spotted Dolphins all around us and they stayed around for a couple of hours. Christine and Jennie sailed the boat, whilst Tony conducted the radio checks and I looked on. Just great having extra crew. They do all the work!! I also have to say that Christine is a superb helmswoman.
On arrival in Smir, we were shepherded on to coaches, and made our way to Tetquan. This is an ancient city with a population of some 700,000 souls. Within the city is the Medina which is very old, and there are some impressive buildings where the King of Morocco is in residence for official business.
Kings Palace
Yours truly and crew in the main square
The Souk was a ramshackle affair, with very narrow lanes (no cars to bother us here) and a multitude of small businesses. >From a shop that sold bobbins with every conceivable colour of threads to a shop that sold dyes and "bespoke" paints, made from natural colouring pigments. Most of these business premises measured around six foot square!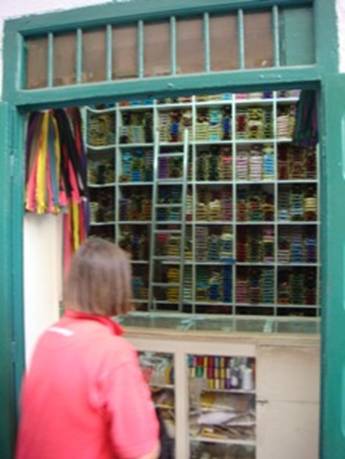 The Bobbin Shop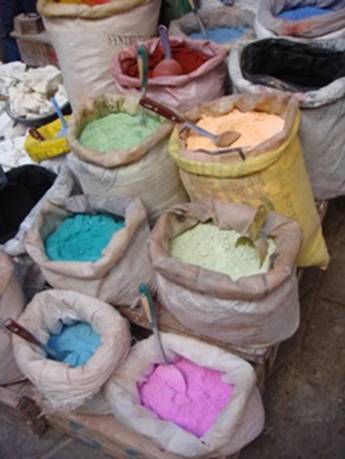 What colour would you like?
Those of us with strong stomachs were treated to a visit to the Tannery. Not for the faint hearted, and I am sure that vegetarians and Health and Safety officers would have swooned had they seen this establishment. But some of the side alleys looked as if they had held secrets behind closed doors for many a year in what can only be described as a maze. Had we not had official guides and "minders" I am sure we would never have seen the light of day again after entering this place.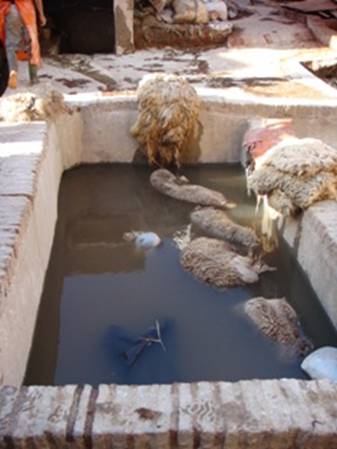 Nice Sheep Skin Rug, Sir?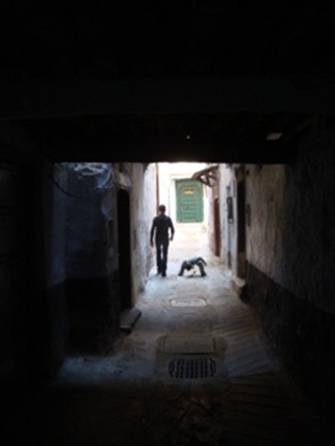 This way to the secret passage….
We were then treated to a visit to a Carpet bizarre. Aptly named…………………….
"Trust me…"
" Nice colour"
Some of these carpets were quite simply stunning. Especially the Berber carpets, which can take these tribes people up to three years to weaver by hand.
Next we were treated to the local apothecary. They sold every thing and anything for ailments, aches and even a herb which they claim to be more effective than Viagra. No we didn't buy any!! Jennie did secumbe to the Saffron, which was one tenth of the cost of it in the UK. We were invited to try out some of these cure all's, and Hugh from Stargazer, a retired surgeon, decided to have a go……..
"Left a bit………"
Finally, we were treated to a traditional Moroccan meal in a fun but slightly OTT traditional restaurant. We had a welcome from some drummers, who managed to swing around the tassels on their head gear whist drumming at the same time. ( Whistle and ride Jennifer!!!!!)
We were entertained by a belly dancer who was covered from head to toe in traditional garb, and a double jointed juggler. More nightmares for the health & safety folks…..
After all of this excitement we had a police escort back to the coaches, (a bit scary), and police outriders all the way back to the Soffitel Hotel at the marina. Bluewater Rallies had succeeded in persuading the hotel to open the Ballroom for us, with an enormous wide screen TV projector (around 50 foot wide) and comfortable sofa's and nibbles so we could watch the Rugby World Cup final. There was of course a bar, albeit with eye watering prices. So we watched the final, in comfort with a French commentary. One of the highlights of this event was when the camera's focused on Gordon Brown, and very Brit in the room booed. This caused some confusion with the Non-Brits ……Shame about the Result!!
The next day was simply stunning weather. Marina Smir is very attractive, and virtually empty at this time of year.
.
After a lazy start to the day and a full English breakfast including poached smoked Haddock fillets, we completed the exit formalities and headed back to Gibraltar.
We had to motor to start with, but as we neared the northern tip of Morocco (which is actually part of Spain) we hoisted all the sails, and in very short order were having a blistering sail in a fresh NE breeze of 18knots apparent, trucking along at over nine knots for part of the time. The view of the Levanter cloud over Gibraltar was classic…………….
It was a fantastic weekend. Great company, new experiences and brilliant sailing.
Bring on the Blue
No virus found in this outgoing message.
Checked by AVG Free Edition.
Version: 7.5.488 / Virus Database: 269.15.0/1077 - Release Date: 18/10/2007 09:54

No virus found in this incoming message.
Checked by AVG Free Edition.
Version: 7.5.488 / Virus Database: 269.15.0/1077 - Release Date: 18/10/2007 09:54

---