Australia Bound 19:29:90S 153:23:21E

Zipadedoda of Dart
David H Kerr
Mon 4 Aug 2008 16:15
WE departed Port Vila, Efate  on the 30th July, bound for MacKay on the Queensland coast of Australia.
During our stay in Efate, we took a "round the Island" tour, as organised by Yachting World. This was remarkably good value…or so we thought. 10 of us piled in to a Toyota minibus, and off we set from the Waterfront Café at a cracking pace.  It was due to include a village tour. When we got to the village (having missed two of the more impressive tourist sites in Efate along the way). It tuned out that the village chief was out for the day, so we were not allowed to see the village. Instead we were dragged off to a cave, where the village used to obtain their fresh water. It now comes from an artesian well.  We were shown around this cave by a local guide, using burning dried banana leaves  for a torch.
(Was going to include a pic, but this file is already too big).
The driver of our minibus was a simply appalling guide, and all he seemed interested in was which foreigners had bought what land.  In the end we took control and demanded that he stop at various points.  One of these was a privately owned WWII museum. The centre of attraction here was a USAF Corsair fighter bomber that had crash landed on a reef a mile off shore after an unsuccessful mission to bomb and attack a Japanese target. Apparently the leading aircraft had the navigator in charge. He got lost, they missed the target and all the planes ran out of fuel.  The pilot of this plane was lucky, because he survived. What was truly fascinating was the small exhibits area.
  Live ammunition, cannon shells, bomb lets etc….Where is that H&S officer when you want him?
A large part of the plane, albeit in chucks had been dragged off the reef a few years ago and displayed in this field, and a hut erected to show off the exhibits. Which were just bits of the aircraft. Including still live (and by now very unstable) bullets, cannon shells, and Bombs. Here we were once again risking our necks! Could this be a tendency you develop as a round the world sailor?
At one pont we crossed a bridge over a small river near a native village. This had several women at work doing the village washing. We asked the driver to stop the bus, so we could walk back and take some pic's. But before we knew it he had reversed back onto the bridge, and most of the women we frightened off and ran into the bushes. So this one solitary lady carried on washing, scowling at us taking pictures, assisted by her pet pig…….
  Local Laundry service. Not sure where the Pig fits in……lunch perhaps
We also noticed several beach side developments. These were basically prime beach sites that had been divided into plots, and being sold off so that overseas investors can build holiday homes. Targeted at the Australian market. These plots are not cheap and there are no services at all, so development costs for the properties with infrastructure will be high. I understood only one plot out of the several developments we saw had been sold.
All over the northern end of the island there is evidence of the large US military base that was stationed here in WWII. A lot of the memorabilia is for sale on road side stalls. The main speciality being original 1940's Coco Cola bottles. Thousands of them, having been abandoned as trash by the troops.
The other less than nice thing that was left by the American forces was a plant that is a creeper which goes by the name "Mile a Minute" plant. This is a creeper with large leaves that was brought in to cover up sensitive installations and so hide them from Japanese War planes. This plant, as the name implies grows extra-ordinarily quickly. It covers everything and kills any other plant it grows on. Even Banyan trees! The locals had an extensive program of burning back land covered with this plant, but it was a piece meal effort and also resulted in the loss of local plants and trees,.
We eventually discovered why our driver had been pushing us so hard. We finally arrived at a resort, run by a Dutch couple who settled here 8 years ago, They stop serving lunch at 2pm (just like being back in Devon), so we HAD to get there in time for our lunch. A very nice setting, God food, pleasant service but expensive. Mind you we were famished by now, having not even stopped for coffee along the way
We were back at Yachting World by 4pm. All a rush and not a very satisfying day. However, one of the more interesting happenings that afternoon, was the arrival of a Round the World yacht with a difference……………….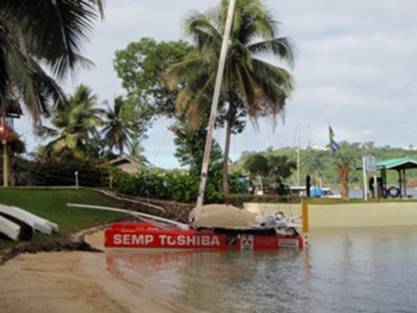 Globe Trotting Cat
This 18 foot catamaran is sailing around the world from Brazil, with a crew of 2. They each have a 6 foot by 2 foot 6 inch tent to sleep in. (The beige covers just aft of the mast). Their toilet is a white plastic seat suspended over the transom. To think that from time to time I have wondered about our sanity in doing a circumnavigation…………..
Port Vila itself is an unremarkable town, which is architecturally challenged. In fact it is something of a "car crash" in that department!! BUT, there is everything you need if you go looking for it. Banks, ATMs, Real European style Supermarkets (mostly French run at Papeete prices), a large open market, a boat yard, Computer shops with very low prices, Internet Café's. The Namberwan being the best, because of the free internet access and the marvellous "Big Fella Breakfasts" with yummy freshly squeezed drinks and good Italian standard Cafe's. There is a Yacht club "Vanuatu Cruising Yacht Club", with a very large attached bar . With the thought provoking name of "The Anchor". This has more  wide screen TV's than you can shake a stick at. The reason becomes obvious on a Saturday night, when the Rugby or the Ozzy Rules Fottie is on. Then the place is packed with hundreds of Expat Antipodeans, all cheering on their teams. Great fun I can tell you with really good crac.
There are several good restaurants (and a couple of dreadful ones). The Café du Jardin, adjacent to "The Wall", mooring was a stunning setting with rather quirky staff.
  The Terrance of the Café du Jardin. Note the abundant "Potato" plant flowers.
The Rendezvous restaurant deserves a special mention. It is in an attractive setting in a large purpose built building, overlooking the anchorage, and with a magnificent terrace. The staff are mostly Sri Lankan and the Curries are awesomely good. Another good restaurant waits you on IkiIkri Island. Very good Asian food, even real Thai cooking. From here you can also take a trip around the immediate area in their Yellow Seaplane…..we didn't because the weather was misty most of the time we were there.
Then there was the Waterfront Bar and Grill. The food here is very questionable. BUT, it is next to the dingy dock, has a really good live band and you can dance until midnight or later if there are enough punters to keep the band entertained. Yachtes are encouraged and given preferential discounts. So avoid the food , but go have a good time!
Yachting World were our hosts, and so it was they organised a formal evening of food, drink and entertainment. This was at the Melanesian Hotel, around the centre court style pool. Excellent BBQ and grill, with a welcome drink and reasonable wine (so long as you avoided the house wine). Brian and Elsie were very good and attentive hosts. The native dancers from one of the northern Islands were quite different to anything we had seen so far. There are from an Island where there used to be cannibalism.
   Pole dancing, Vanuatu style…..
   No, please don't kill the camera man
These scantily clad men were fear some warriors, but still not in the same league as the ones we saw in the Marquasas. On examining the pictures we took, the next morning in detail, I discovered that one of the men was not quite who he seemed. Modesty prevents me from posting this revealing picture, but lets say that I suspect the "dancer" was the young lads mother………………….
We had a great time in Vanuatu. We had no preconceived ideas of what it would be like and so it was a bonus. This despite that fact that our mental focus was firmly on the trip to Australia, which is a 1200nm passage and can be very unpleasant. So I spent quite a lot of time downloading synoptic charts and studying the weather trends. This was made all the more poignant by the news that Hakuna Matata, who had left a week earlier from New Caledonia had run into a tropical storm and were "enjoying" winds of 55 knots and massive, confused seas. We in fact heard that at one stage they were sailing under bare poles at 17 knots!!! Our hearts went out to the Cage family, as this was their last passage on what had been a wonderful life altering adventure. Hopefully the kids will forget this small part of the overall experience and look at the rest of it with fond memories.
So, after delaying for some days we finally left Port Vila on Independence day. Just as we were leaving the anchorage, a large, highly decorated landing craft, came thru' with horns blaring and water cannons spraying…with the President of Vanuatu, waving to us! What a send off!
---