Tahaa & Raiatea 20:58:72S 162:59:52W

Zipadedoda of Dart
David H Kerr
Sun 8 Jun 2008 02:39
We are currently on passage from Rarotonga in the Cook Islands to Niue. It is a dreadful night. Very big and confused seas, with winds of 20 to 30 knots with gusts of 40 knots.  In fact for the first time in nearly 20,000nm and four years of sailing Zipadedoda, we took a big "greenie" into the cockpit early this evening. Fortunately we had a washboard in the companion way, and we were both wearing lifelines.  But the hatch was open so the salon took a salt water bath. This probably happened because Jennie gave it all a good Spring Clean a week ago! So it will all have to be washed with fresh water and dried off as soon as we get to Niue, some 500nm away.
As mentioned in the last Blog, we headed off for a mini-break in Tahaa. This is pronounced Ta Ha A. Quite a mouthful,  but the locals are very particular about this. It is a luxuriant Island, with a population of around 5,000. With very little in the way of tourist development.
I also mentioned the "mystery illness" I had been suffering from for a few days. It felt like a monster hangover, only much worse. Ragging headaches, lasting for days. Cold and shivering and at the same time sweating profusely. Very aggie and generally feeling pretty low. To add to the misery, I had a bite that had become infected on my left ear lobe. By the time we arrived in Tahaa, we resolved to find a doctor to find out what was wrong. Because,  by this time I had all sorts of wild notions about what could be amiss. So after spending the night in Haamene Bay on the east coast of Tahaa, we heading into the principle town on the Island, and found ourselves a French Doctor. What a splendid fellow he turned out to be! A sailor on a circumnavigation, who arrived in the Society Islands four years ago and stayed in Tahaa. Who can blame him! I described the symptoms and his first question was in relation to the infected bite on my ear. "How many puncture holes?" Well both Jennie and I (who could not actually see the offending appendage) said one. He said, "lets see?"  So he made me stand in front of a powerful lamp stand and looked at my ear through a magnifying glass. Eureka he cried! As I thought, two puncture holes. So???? Well it turns out that on Raiatea and Tahaa they have a particular species of rather nasty poisonous Centipede.  I had been bitten by one on the ear and also on the eye brow. This is what had made me ill, and because I had scratched the bite on my ear it had become infected. So, a course of broad spectrum anti-biotics and pain killers were prescribed and we went on our way. Rejoicing in the fact that the mystery had been solved. The same doctor was also a mine of information about poisonous creatures in the Pacific and how to deal with the bites and stings, should you be unfortunate enough to succumb to any of them. He has actually survived a Stone Fish sting on the leg, so he was a fountain of practical knowledge………….
The journey from Raiatea to Tahaa is a short one. It is well buoyed and marked, but t is not without hazards…………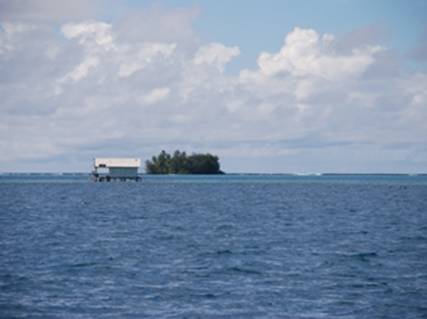 A Raiatea Pearl Farm…….on a reef.
On our first night there we were anchored at the head of Haamene Bay, adjacent to the main town (large village). On the ferry quay there is a restaurant run by a charming retired French Naval officer.  Bruno is his name………………..
  Bruno's Restaurant…Superb Steaks and great wine cellar
It is a simple restaurant, more of a local Café feel. But the waitress was quite beautiful, lovely smile and very helpful. So, I guess the food could have been awful and I would still have loved it! But seriously, the food was outstanding and he has an amazing wine cellar, for a restaurant with around 20 covers. Bruno retired to Tahaa eight years ago and after he and his wife had built their house, they set about developing the restaurant, which opened 4 years ago. 
The bay is long and it takes while to get to the end. I recommend you pass by the other restaurant on the north side and anchor in the head of the bay in mud that will hold your anchor in virtually any conditions. It would be a great hurricane hole. It is also convenient for the village and the local store which is next to the restaurant on the pier. This is a real pickle of a store. French bread to welding masks and gas lights. They have it all!
The day we went to town to see the doctor, a new market opened,. There was dancing, speeches, and a band, as well as the market itself. This is the only market on Tahaa and it is hoped that the local people will now be able to get most of what they need locally rather than having to travel to Raiatea on a Friday…..to find all the cash machines empty!
The plan for the next day was to get an early start and head off to the north of the Island for some snorkelling in the coral gardens there.
  Tahaa Dawn
We slowly motored anti-clockwise around the island to the north east corner, inside the reef. Passing a pearl farm along the way. But we had "done" that and did hope to find a Vanilla Farm, as Tahaa produces some 90% of the Vanilla production in French Polynesia. But time was not on our side and so sadly, we had to give that a miss too.
We selected our spot near the reef and anchored in 20 metres. Having ensured that we were well "bedded in" and that in the event of wind shift we would not crash into the reef. We launched the small dingy, fully loaded with snorkelling kit. Then set off for the other side of the reef.  It is quite awesome to see the depth rise up from 25 metres to 1.5 metres over a distance of less than 10 metres. It is very easy to see why so many yachts come a "cropper" in this part of the world.  The coral on top of the reef, which is a good 1 mile wide, is mostly dead. So there are no fish. Just the odd Sting Ray or Eagle Spotted Ray, in the crystal clear water over white sand,  that varied in depth from 2 metres to a few centimetres! So we carefully picked our way forward towards a Motu, where there appeared to be some withies, marking a narrow channel.
    Beautiful coral heads teaming with small electric blue Damsel fish
Once there we found a mooring buoy opposite the Motu, at around 200 metres from the outer edge of the reef. There was a good flow of water here, so there were lots of beautiful coral heads, with some vibrant green, purple and pink colours. All in depths of 1 to 2 metres.  So we took our time fining out towards the reef. Then just drifting back to the dingy on the current. We saw all manner of colourful and wondrous creatures…………..
  The Lesser Spotted Jennie Fish in its natural habitat
As you have gathered by now, this was my first chance to try out the underwater features of my new Olympus handy camera.  Fantastic new toy. Thank you Sarah!!
Once we had finished our extended snorkelling trip, we raise the anchor and continued our circumnavigation of Tahaa. We arrived and anchored in a bay opposite the Pai Pai pass on the Western side when a combination of light and cloud demanded a picture of Bora Bora……….the first of VERY many to come.
  Moody Bora Bora
The following morning we once again arose very early, so as  to be back in Raiatea first thing for the final fitting of the new Biminis cover and side screens.
 The anchorage at Raiatea Marine in the early evening, with traditional canoes, sans outriggers
Tahaa once again emphasised how different each of the Society islands are. It is hard to believe that it is only 30mins by boat between Tahaa and Raiatea. Because the pace of life, the attitudes and the outlook of the people seems so different.  We just loved Tahaa, and every one of the BWR crews who went there just adored it. As ever, just wish we had more time……………
Next up, Bora Bora…………the most beautiful place on the Planet………..Wait and see!
---