Bali- The Finale!

Zipadedoda of Dart
David H Kerr
Sat 8 Nov 2008 23:13
Before going into the detail of our last day of fun in Bali, an up date on where we are.
We are currently on passage from Kumai, Kalimantan, Borneo, to Nongsa Point Marina, Batam Island. This is a stones throw across the Singapore Strait to Singapore Island.
During this long passage, some 600+Nm we had two significant milestones. Firstly the boat has now done over 30,000nm. 25,000nm of which it has done since we bought her four years ago. The second event was our crossing the line, (aka Equator) back into the Northern Hemisphere. The northern hemisphere had a welcome awaiting for us. A tropical thunderstorm. Lightning, lashing rain and winds of up to 45 knots. What a welcome! No dressing up this time, but the inside of the boat had a good wash. Sadly in salt water……………….
Meanwhile back in Bali. We were collected by Mr Widi at 0715 for the long(ish) drive out to our first destination. We were once again joined by Robert & Wendy and in addition, Anne Marie & Peter from Lousill.
Our objective was a 14 km ride down a river in the mountains….in other words…White Water
Rafting…….
When we got there it seems that we had to be spread over two rafts, each one of which had an instructor cum safety officer. So after some discussion it was decided that the girls would go into one raft and the other raft (inflatable) was to be taken by "The Boys". After a safety briefing we set off. Wendy and Robert had done this before, but the rest of us were novices, and both Jennie and Anne Marie were a little anxious (to say the least) about this new adventure……………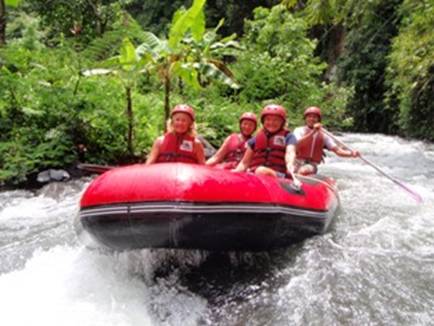 But as you can see from the grins on the faces of all three girls, they soon relaxed and were having loads of fun………………
Even when they had to do a 4 metre drop down a weir……………….
Putting aside all the excitement, this is a wonderful way to experience the beautiful scenery in Bali. It is very nice to get away from what we found to be a very over developed and crowded Island.
Water fall…before we got stuck under it!
Half way down, we stopped to have a break and to have a refreshment. The rafting company had organised a "pit Stop" where we could have a cold drink. Very welcome too, because by this time my arms were aching from all the paddling, and bouncing the raft up and down to get it released when it jammed on top of a rock……..
BWR White Water Rafting Team
At the end of the ride, we stepped out of the rafts and headed for a small restaurant for lunch. Some 500 steps later….we arrived in the restaurant, cold, sticky, exhausted and wet! But they had showers available and we donned dry clean clothes, after a good wash and rub down. Followed by a few more Bintang beers and local fare.
We then returned to the marina, to change and then head on out for the show at the Uluwatu Temple. This temple, the biggest on the island, in a most spectacular cliff top setting. It is home to some very aggressive monkeys. We were told in no uncertain terms to be very careful with them.
The Kecak show and Fire Dance was enthralling and a joy to watch. Sadly no pics this time, as I had a disaster with my camera. Wiped out all the pics before saving them to the computer. Not one of my better moves!
Finally we had a starlit diner on the beach in Kuta. We were serenaded by a very good band. There were fireworks displays…all very dramatic, but a bit artificial. Rather Disney like. But the food was disappointing and expensive. Still it was a nice evening with good company.
We spent another couple of days with workmen on the boat, then it was time to leave Bali. We enjoyed ourselves in Bali. It was fun. BUT, it is very over developed and very touristy. A bit like Blackpool in SE Asia. Despite the fact that on the whole the people were charming, helpful and in fact just delightful, I would not come back here.
Kumai Bound:
We finally departed for the Kumai River in Kalimantan, Borneo on the morning of 30th October. The last BWR boat to leave Bali. The staff were fantastic and gave us a lovely send off.
We had taken lots of advice and listened to the experiences of other BWR boats about how to deal with the rampant foul currents in Selat Lombok, the strait of water between Bali and Lombok. So we keep very close inshore to the Bali side. This worked a treat! We even found positive currents. The trick was to look out for the white water, where the SE Monsoon stream meets the local counter currents. At times we managed 2 to 3 knots of favourable tide.
The other hazard on this coat is the local fishing skiffs. The beaches are lined with literally hundreds of them, and I mean hundreds.
It must be an utter nightmare attempting to navigate around these flimsy unlit fishing boats at night.
There were enough of them in the day time to be a pest!
Once around the Eastern tip of Bali, we plotted in the Waypoint for the entrance to the Kumai river, which is not t all easy. However, Per from Pelle V had e-mailed me a set of waypoints that he had worked out from their trip up there the previous week.
So it was we arrived in the anchorage in the Kumai River, off the town of Kumai, on the morning of 2nd November, (after what had been a rather tedious 475nm motor from Bali). In the middle of a monsoon rain storm! Position 02:44:58S 111:43:87E.
We were very excited about our upcoming trip to the Tanjung Putting National Park, and Camp Leakey……………….We were not disappointed!! In fact it was one of the high lights of the BWR so far.
---