Cadiz 36:36:93N 006:21:27W

Zipadedoda of Dart
David H Kerr
Thu 6 Sep 2007 16:24
As they say about football matches, this was a visit of two halves!
The passage down here was as previously stated, boring. We motored for 11 hours in little or no wind. The good news was that it was warm and sunny and we did get to see a family of Dolphins, Mum and Dad and Junior. Unfortunately I was unable to get close enough for any meaningful pictures.
There is a choice of 3 Marinas in Cadiz bay, which is some five miles wide. We opted to go for the one nearest the city itself, which goes under the name of Puerto Deportivo America.
Much to our consternation the reception  pontoon had a small speed boat parked right in the middle, making it impossible to berth there. At the time we though "how thoughtless is that!" So we had to do some serious gyrations to turn the boat around in just over 1.5 times the length of the boat to get her swung around so we could come alongside a large hammerhead pontoon. As we were in the final throws of mooring up a marina Marinelo arrived and started talking to us in Spanish. Did not understand a word he was saying. So his solution to this was to adopt the English approach and shout at us instead. He shouted and shouted and we did not understand a word and just carried on mooring the boat.  In the end he gave up and actually helped us! He then got unto his VHF radio had a chat with his boss. He then beckoned me to follow him, so I tagged along behind him, meekly wondering where we going.  We eventually arrived at a finger berth, I9. Nice and wide and full length finger. Wow!! So I trotted back to the boat, crew and I  rearranged the strings and off we went to the new berth. Our man was waiting for us, and took our lines. Naturally, the wrong ones, so this time it was Jennie doing the shouting!! After all the excitement we sat down, and had a cup of tea.  I then went in search of the Marina Manager, to check in. He could not have been more helpful. Spoke perfect English and was very efficient at all the form filling.
The cost for three nights was Euro 99. Quite reasonable. BUT, the shore power is only available from 32Amp sockets and they have no adaptors available. There is no active gate security. Just one security guard, who spends most of his time chatting to the youngsters who use the concrete hard standing behind the marina for stunt riding, motor bikes and doing wheelies in cars.  Much revving of engines and squealing of tyres. The ablution facilities were very basic too. On the upside there is a real chandlery here, who stock every sort of engineering part you could hope for. Including 32A plugs etc. So by 0930 the next morning we had shore power.
It was then off to down town Cadiz, for a wonderful tour of this, the oldest City in the Western World. Yes, 500 years older than Rome!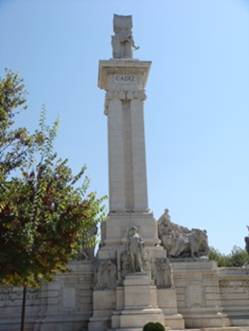 The City centre, where the really old part is, is a 1km walk from the Marina, around the container port. This is not at all pretty, but as soon as you enter the walled city itself this is just  utterly stunning, and there is a wonderful buzz about the City.
The streets are far too narrow for vans and lorries or buses, so there are scooters and cars only and hundreds of people walking. Many of the streets are no go areas for cars, so the best way to see the city is on foot.
We just ambled around, slowly working our way to the oldest part of town, where the cathedral and Moorish buildings and squares are located. On the way, the majority of the old residential buildings are arranged on 4 or five floors. Each building forms a complete block. On the façade are spectacular windows and balconies. There is usually one large entrance into an inner court yard. This is open to the sky so acts as a light well, but at the same time provides shade, and so is cool. Some of these court yards were amazing, with marble statues, and fountains, and highly decorated with Moorish patterned ceramic tiles on the walls.  The finishing touch being large earthen wear pots with a wide variety of plans and trees.
What was heartening to see is that whilst so many of these properties had fallen into disrepair, the local authority was now restoring them. By the 100's!! Virtually every street had builders beavering way at major rebuilds, whilst retaining the original facades. This approach completely preserves the essence of the City architecture and its heart. Whilst at the same time ensures the residents can enjoy all the latest local amenities and comforts. That is of course, excluding cars…………..as there is no parking.
The truly impressive buildings are to be seen from the top of the Tavira Tower, which at 45Metres is the tallest building in Cadiz City. You can see the whole City from here.
Jennie and I also enjoyed the culinary delights and some retail therapy as well. As the following pictures will attest…………
So after two days of touring the city by foot (mostly) and tour bus, we left early yesterday morning for Barbate, on our way to Gibraltar. After 3 miles we heard a gale warning and just managed to get into Rota Marina before it hit. It is called a Lavevanter, and can blow for 4 or 5 days! Easterly Gale, over an East going tide. Not a good place to be when it blows up. The forecast for tomorrow seems ok, and all being well we will get off at 0600 and head straight to Gib.
We thoroughly enjoyed Cadiz, very well worthwhile the visit. The only shock was the cost of everything in southern Spain. Ouch……………..
Until, Gibraltar then…………………………………..
---