Antigua Part 3 - The final Episode From Friendship Bay, Bequia 12:59:44N 61:14:15W

Zipadedoda of Dart
David H Kerr
Wed 2 Jan 2008 23:40
Christmas Day & Boxing Day. which was Jennie's Birthday.
Paul Hayes, Anahi, getting into the "spirit" of the Christmas party
Christmas day in Nelson's Dockyard is something else. It starts at about 1100 with a Champagne Party, around the old Careening Capstans. These were originally used for careening Nelsons warships, and so enabling them to repair the hulls, prior to their return journey to the UK. A mere 3 month passage each way in those days. The full repair and maintenance process used to take six months in those days. The Dockyard is full of lovely buildings constructed from stones and bricks that came across the Atlantic from the UK, as ballast aboard the old wooden sailing ships. So there is the old Copper and Lumber store, which is now a hotel and the venue for our Christmas lunch…….a small gathering of yachties, 94 in all.
Copper & Lumber Store Atrium
Then there is the area where all the sails were removed and serviced.
There used to be a wooden sail loft above these pillars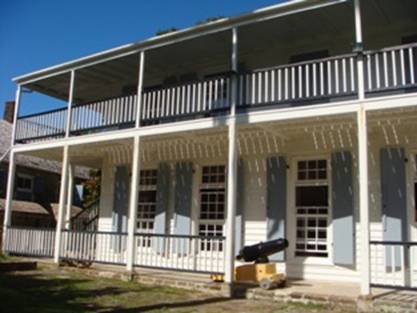 More restored Historic Buildings in Nelsons Dockyard, now a museum.
Meanwhile, back at the Party. There was a Reggae Band which was recycling Bob Marley tunes at a mind numbing volume. This made all conversation within 300 metres challenging to say the least. But the crowds did not seem to care and just got stuck into the festive mood and danced their socks off!
The speaker stacks are out of sight. 10 feet high…..
At 1600 we all descended on the Copper & Lumber Store Hotel for a traditional Christmas dinner. With so many people in our group it was something of a forgone conclusion that the meal would not rank as a gourmet special. It wasn't. It arrived 3 to 4 hours late, and was not at all impressive. But the company was great and the wine flowed, so we just made the most of it and had a cracking night,
The next day was Jennie's birthday and we descended on Galleon Beach with a few survivors from Christmas, for a beach Barbecue. It was a really special day and we had marvellous company, good food, and more Champagne………Oh and swimming off the beach to cool down when it all got too hot…..This was a special day for all of us.
Cheese….
As you can see from the picture above, we were very happy chappies………………………….
Next to Bequia……St Vincent & The Grenadines……………..
---