Lagos via Sines 37:06:62N 08:40:49W

Zipadedoda of Dart
David H Kerr
Thu 21 Jun 2007 19:14
We had a very pleasant coupe of nights and a day in Sines. As a town it would not win any architectural prizes, but it does have an ancient fort and the beach area adjacent to the small marina is delightful. All the more so as it is a mini oasis, in amongst the oil refinery, container port and the fishing quay. Talking of which, we decided to go in search of a traditional Portuguese restaurant and see if we could get some grilled Sardines for lunch. Well we hit the jack pot! Just near to the main square, adjacent to the primary car park for "down town" Sines we happened upon an unremarkable looking restaurant. What drew us in was the delicious smell of sardines being cooked on a charcoal grill. So we ventured into what can only be described as a very lively, packed, family run restaurant. We had a plate of nine large (9 inch long) sardines each, with a simple olive oil based salad, and boiled potatoes, accompanied by a yummy bottle of house wine. We made it very clear to the waiter how much we had enjoyed this meal. So as a reward, the lady of the house gave us a free pudding. This was Portuguese style treacle tart. We were a little nervous about this at first , but it turned out to be a tasty surprise!!
The following morning, we arose at 0500 to grey skies, no wind and the prospect of another long day, motoring the 80 nm to Lagos. As the day wore on, the clouds lifted and it brightened up. On the run down to cape St Vincent we were briefly joined by a large pod of common Dolphins. Six of whom jumped out of the top of a wave in perfect unison, "shoulder to shoulder". Iit was a very special moment. Later on we had a glimpse of a large whale, I suspect a Minke, as it was surrounded by dozens of sea birds, mostly Storm Petrels (how appropriate) feeding on the scraps of fish left by the whales feeding habits.
So onto Cape St Vincent. As we rounded the most south westerly part of Europe, the sun came out to greet us and we had a gentle breeze from the North. So we sailed all the way to Lagos. Around 25 NM on completely flat water and a mounting stiff breeze for the four hours, to give us an exhilarating finish. During this spell of sailing the iPOD was worked overtime. Jennie selecting such tracks as "Blue Skies" by Eva Cassidy and "sunshine" songs, whilst I choose Echo Beach by Martha and the Muffins, not forgetting the old standby courtesy of Rod Stewart "Sailing"…………….
Arriving is Lagos, was like coming home. We had a fabulous time here last year, and we are determined to do the same again this year. We are both now really looking forward to a holiday with the grand children. The first of which arrive next Monday. Meantime we now have to prepare the boat for guests, get the push bikes erected, and just get back into the groove of life in Lagos.
Onwards and up wards…………………………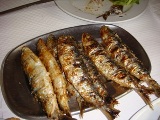 ---