More Kids Stuff 37:07:83N 08:36:10W

Zipadedoda of Dart
David H Kerr
Fri 13 Jul 2007 08:39
Back in beautiful Alvor once again.
This time with Sarah & Nick.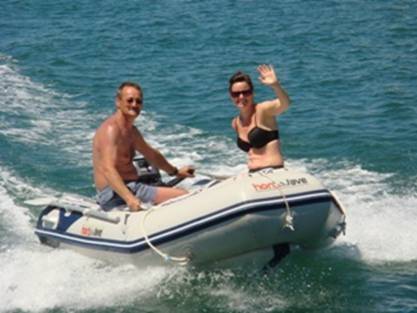 Ideal for Granddad, as once again I get the chance to play with my toys and have fun with Jess & Ellie, who just like Tom and Ollie before them, just love being thrown around in the dingy at 20+ knots.
Last evening the kids were on one of the sand banks, digging up cockles, clams and catching hermit crabs and regular crabs, not to mention peeling oysters off discarded lobster pots. Grandma is being encouraged to make a cockle cum clam chowder today……………
All of this followed some excellent beach days, and visits to Linda's beach bar once again to sample her delightful salads.
It is very warm here, and so is the water, so we plan to indulge in some Kid Dunking this morning. This involves rigging up the pole out system for the spinnaker, with a bosuns chair and a block and tackle. Loads of fun!!
All being well, more pictures to follow soon…………………….
---