Miami Florida

Ambler Isle
V and S
Wed 11 Feb 2009 23:06
26:46.805N 080:09.203W
Aaaaaah Miami. The water is aqua blue. The homes magnificent. The palm trees are everywhere. Tequesta Man eternally blows his conch horn. today was 80.
We changed our plans last evening and anchored in Santa Barbara Lake, just north of Ft. Lauderdale. It was a quiet spot except for the small boats returning home. Lifting anchor at 6:00am, we were through several bridges before seeing any traffic. The Miami Boat Show is this weekend, and many were bringing yachts in for the show.
We arrived in Mimai at 11:00am to meet a diesel fuel delivery truck. Next we anchored behind Star Island. The police arrived shortly after that to advise there is a seven day limit for anchoring here.
It was good to have a half day to catch up on chores and rinse the boat.
Thursday we will pick up a generator part, do all final errands, and prepare to depart for the Bahamas on Friday.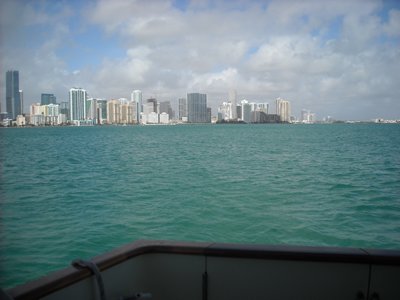 ---