On to the Okeechobee Waterway

Ambler Isle
V and S
Sun 1 Feb 2009 17:38

26:42.769N 081:32.963
After leaving treasure Island, we took the Gulf Inter Coastal Waterway (GICW) to Venice. It was windy on the outside route through the Gulf of Mexico and the Intercoastal Waterway is much more protected. The going was show, however, as we watched for shoaling, shallow depths, narrow channels, and the ever present Florida Boat Cowboys. These reckless boaters pass us at high speeds, creating a huge wakt.
Arriving at Venice Free Numicipal Dock, we tied up behind a small Bayliner, "Out to See". Captain Walt and
June were seasoned sailors who'd toured the Great Loop and the Bahamas extensively. We walked 2 miles to the little town of Venice and ate fresh fish at TJ Turney's restaurant.
We got a late start the next moring, really enjoying some leisure after both the hard push on the river trip and then the 33 hour crossing of the Gulf of Mexico. We ended up at the mooring field at Ft. Myers Beach. We got in a short visit with Doris and Werner Schuette.
Sunday morning, we left the moorings at 6:00am and began the 150 mile trip across Florida. The Okeechobee Waterway has 5 small locks and 5 low bridges. It meanders through Florida's inland farming areas. We made about 80 miles to stop at Moore Haven, a small town just a few miles before we get to Lake Okeechobee. The lake is 25 miles across open water. We will made it to Pt. St. Lucie tomorrow.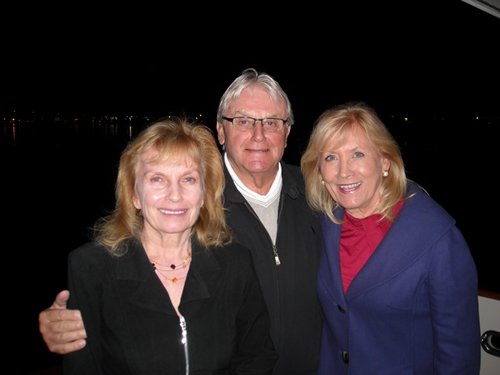 ---