Greece 2

Moxie - Beck Family Adventure
Mike, Denise, Asia and Aranya Beck
Sun 25 Aug 2013 09:54
The Conroys arrived and the Hendrys were still on the island so we took a day trip from Kefallonia across to Zakinthos where we visited the tourist hot spots shipwreck bay and the blue caves. Even with 12 people aboard Moxie didn't feel crowded, loving this catamaran!
Shipwreck bay
The downside of shipwreck bay, 300 people on the beach, we went ashore but only behind the wreck was there any peace, basically I couldn't wait to get out of this crowded scene and back to Moxie.
In shipwreck cove there is a nice secluded beach that the kids had all to themselves for about an hour before some super yacht guests invaded it. Notice the beautiful clarity of the water, it was truly stunning.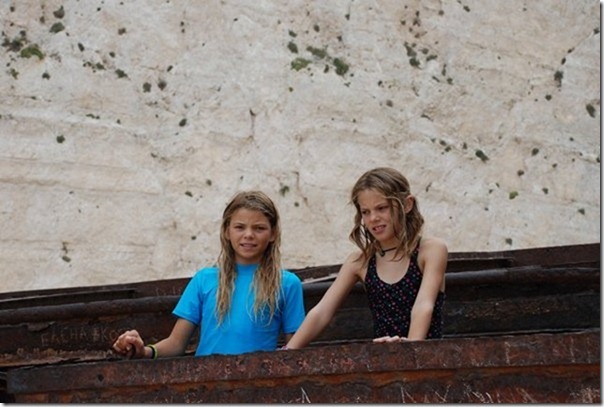 Asia and Aranya on the wreck.
The annual pegdressing of Michael ritual.
Aranya the 'not catching on' fashion model again.
Agrostoli, not the nicest harbour by a long stretch of the imagination but this is home to 5 or 6 sea turtles, every day they swim up under the fishing boats while they sell there produce directly on the quay to collect the scraps.
Asia and Caroline selling bracelets in Agrostoli.
Wow what a social few weeks it was for us, a really nice change to hang out with friends and most importantly kids! Thanks Chanty, Felina, the Conroys, and the Hendrys we will remember these times fondly indeed. In the end we lost count of how many meals the spearfish gave us but it was many indeed. All gone now.
---