Moxie and Moxie - The cat is out of the bag!

Moxie - Beck Family Adventure
Mike, Denise, Asia and Aranya Beck
Fri 25 Jan 2013 12:55
Hi, we are back.
And we are now a two boat family, yes that's right the cat is out of the bag. We have bought a 2007 Fontaine Pajot Salina 48' catamaran and will be moving aboard very soon.
.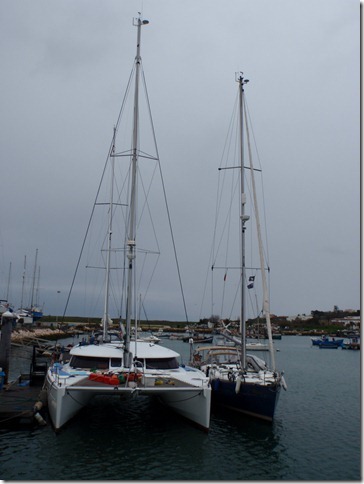 Moxie and Moxie at the Sopromar yard in Lagos Portugal. (Temporarily flying the union jack until we can get a proper ensign)
We'd hankered after a cat from day one but had too many mortgages in the way. Moxie 1 has been superb, unfaultable really, but the extra space on a catamaran has won the day and will be very welcome. Anyway, here we are after 3 years finding ourselves moving over to some serious 'real estate' indeed!
So Moxie 1 is now for sale, alas we have sunk a fortune into her equipping to the hilt with the best blue water kit – now it seems we have done that for someone else's benefit. Let's hope she finds a new owner soon with similar dreams to us. So email us - moxie at mailasail dot com if you are interested – GBP130k should do the trick – gulp :-(. It seems that it's not a great time to sell boats.
From now on Moxie will refer to Moxie the cat. We have had workers at Sopromar crawling all over her for two weeks now, she's still a complete shambles but things are getting done. We'll wait until everything is shiny and then post some pictures. Layout is three cabins, three heads and a workshop/ laundry (we have installed a real washing machine!!!).
The girls are approaching the end of term one of their new school system, ABeka Academy from the U.S. What a great system it is, shame we only recently learned of it because it would have saved a lot of anguish, time and hassle. Gone are the "you are pushing too hard, I have too much work" comments. With A Beka the girls are part of a DVD video class and have a teacher – so they are doing the same as everybody else and the teacher sets the pace.
This years plans.., well we will see how we go but currently Turkey is looking attractive.
---