Sardinia

Moxie - Beck Family Adventure
Mike, Denise, Asia and Aranya Beck
Wed 26 Jun 2013 20:30
Aranya getting fish prep lessons in Mallorca
Heeling on a cat not that bad eh!
A ringtail dove (named Saturn by the kids) hitched a ride for 24 hours or so.
My birthday present arrived just in time for dinner, actually 10.5 kg of tuna gives quite a few dinners.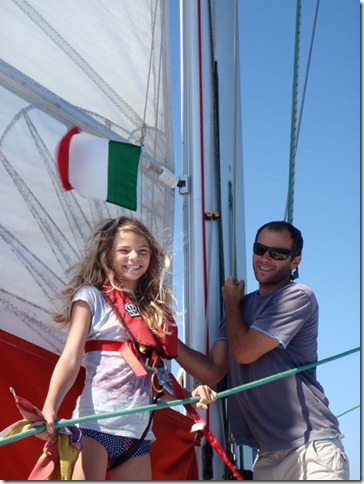 ITALY!!!!
Calm before the storm
The good ship Chanty sitting out a gale, on this boat Craig and Carol have been around the world.
With 30 odd knots of wind to fan it this fire was totally out of control within 30 minutes
hmm, we hear it topped out at 47. In Rocna we trust – didn't move an inch.
A great show from the sea plane
Reloading
---