Morocco - Smir and Tetoun

Moxie - Beck Family Adventure
Mike, Denise, Asia and Aranya Beck
Thu 30 Jun 2011 15:56
35.45.17N 005.20.43W
Another courtesy flag.
The Marina and immigration offices in Smir.
Having cleared customs and checked into the marina it was time to relax a bit.
We popped over for a few hellos on the opposite pontoon and a couple of beers. The first person we met was local chappie Mohammed and his camel Abdul. Mohammed tried to sweep the girls up and on to the camel however not wanting to be scammed I insisted to know the price beforehand. Dos Euros he said pointing to each of the girls, I agreed and no sooner had we nodded then the girls were aboard Abdul. I'm not sure if you have ever seen a camel getting up but it consists of 3 awkward movements each tilting the riding position to 45 degrees front or back. Aranya was in histerics at these gangly antics and then all and sundry were off down the pontoon 30 metres or so and back again. Not having any small change and not expecting any change from Mohammed from a tenner, I sent Denise back to Moxie for the agreed 4 Euros. When she arrived back she was ushered upon Abdul with the two girls and another 40 second camel ride followed. Denise then paid Mohammed, apparently there is high inflation in Morocco and dos Euros had now inflated to cinco Euros and we were scammed into handing over 15 for the rides. Lesson learnt, he who negotiates must also pay.
Unfortunately for us we had berthed next to a Rock Sailing school / skippered charter boat that was loaded with girls here for a party. So until 3 in the morning we had 5 girls dancing in next doors yacht cockpit, very poor very loud singing and music blaring. Not to mention the ringleader, in her best drunken northern accent, chanting 'No sleeping on the boat, no sleeping on the f-ing boat' on a fairly regular basis. I was considering to repeat the chant at 6:30 am accompanied by a fog horn would be fair alas I too needed sleep at that hour. The school owner took until well after lunch the next day to unblock both heads (loos) that had been crammed with paper overnight.
Rally organisers Derek, Lorraine and Dona.
Saturday we joined rally participants for a (late) complimentary breakfast at a local restaurant, it was a basic affair which we could have added to however stupidly we'd only come over from Gib with 100 or so Euro's. We tried everything given us, couldn't quite finish the mint tea though I'm afraid. It is very sickly sweet. The local currency in Morocco is the Dinah however we didn't want to be stuck with any of these and everyone was accepting Euro's at 10 to 1 in any case so that was easier. We borrowed from the kid's reserves and ended up with almost 150 Euro. Life would have been easier had the Marina accepted credit card alas this is not the case. Also diesel is only 75p per litre but we could not take advantage.
We went for a wander down the surprisingly empty beach at Smir. I'm not sure when they make any money around here (other than camel handlers that is) as there was scarcely a tourist to be seen. Mostly the beach was decorated with empty deck chairs a few deck chair fee collectors. There was also quite a lot of small pieces of rubbish everywhere, bottle screwcaps and the like but also we found a small piece of glass and a tear off tin can top (lovely for kids feet). The deck chair lads seemed to be raking their turf and disposing of the debris, I guess a clear patch of sand passes for an oasis these days. Good news was that Aranya found a little jellyfish and without too much effort a discarded plastic cup was found to collect it into. This was to be our entry into the biggest fish caught competition in the rally.
Deck chair wardens creating a litter free patch of beach.
Saturday afternoon consisted of games. Horsie racing, higher or lower card pyramid, tug of war, hoola hoop, Macarana dancing and most hilariously belly dancing. The belly dancing was won by a very large man off one of the gin palaces. Apparently he'd been to lessons and it was amazing to watch how much control he had over his stomach rolls. I was in fits of laughter and admiration, for one thing you don't expect an overweight gazillionaire to take his shirt off and dance for the commoners, but mostly you certainly don't expect that he'd actually be hands down the best belly dancer in town.
Hoola hoop competition.
The horse races
Later there was a mass BBQ - 3 x 44 gallon drums, fancy dress and prize giving followed later in the evening, Aranya won the largest fish caught competition and was presented with a very impressive trophy. Asia and Aranya tried out for the Hoola Hoop but were hands down knocked out by their new friend Maya, 6 - a guest on the gin palace.
66 gallons BBQ setup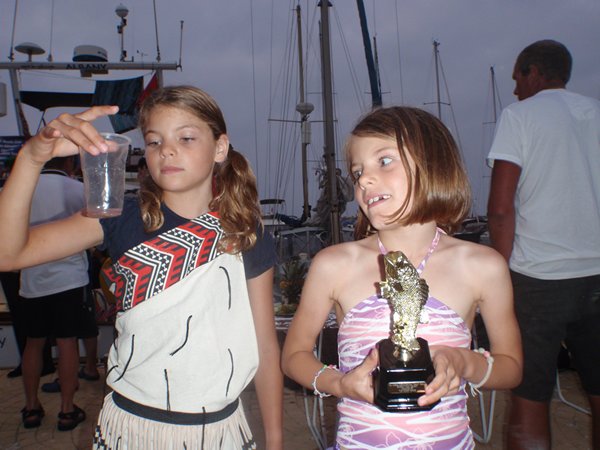 Aranya with her 'Biggest fish caught' trophy, Asia admiring the specimen. As we suspected Aranya was the only successful fisherman of the Rally.
We decided to stay on for an extra day and ventured into Tetoun. We shared a taxi to get there with the boat next door, it cost 6 Euros in total for the 40 odd kilometer trip. Immediately upon arrival we were adopted by a friendly English speaking local that was 'not a guide' but he happened to be going to the market and was happy to show us. If we wanted we could follow along or we could make our own way. He was nice enough and the rouse was superficial so we tagged along with Mr Notaguide who pointed out that he was Ahsmatic and proudly showed me the blue inhaler several times.
The entrance to the marketplace, after this point it got dark and narrow.
We entered the market streets tentatively behind Notaguide, the walkways are very narrow 6 or 8 feet wide in places, an open sewer seemed to be weeping and meandering path around the joints in the cobbled path. Each new turning brought us to a new 'department' with different streets clustering different trades. We passed rows of tiny barbers shops, butcheries and fresh produce stalls (many of these simply a crate on the path with someone squatting next to it). There were bakeries and cake stalls with huge piles of colourful and tasty looking treats but complete with one or two large black wasps or flies testing the quality, and a flea market where all manner of worthless rubbish (in European standards) was being plied, grubby second hand Barbie dolls and the like.
The street market in Tetoun
Finally Notaguide seemed to need a rest, "Why don't you pop into this building to admire the view from the rooftop terrace, you can see all of Tetoun". With many repeats of I'm not buying anything we agreed and entered the carpet shop. Many, many carpets were rolled out and displayed before us, "just to show us the quality". The girls were laughing as even if Moxie needed a nice new carpet, we simply had no spare cash, and how long was it going to take them to put all of those carpets back? Anyway they were very very nice people, not pushy and we left without any animosity, without a carpet and hopefully with enough money for the marina fees.
The must see view from above the carpet shop.
Next up was the outdoor tannery and leather goods stores. We were hopelessly lost by now in the myriad of dirty streets and Notaguide having gotten us completely lost and out of our comfort zone. I was beginning to think that we should have stopped at the bakery so that we might have been able to drop breadcrumbs along the way. I decided that Notaguide was going to earn his expected reward simply by showing us the way out. We visited a pharmacy come spice store where we were given a rather interesting lesson on medicines and uses for the various herbs and spices, again we managed to leave comfortably and without purchase, then through the shoe stalls, jewellery alley and finally back to daylight near the Kings Palace.
The tannery.
We arrived back at the taxi rank where notaguide seemed to hand us over to notataxitout. Denise by this stage was somewhat overcooked and ready to hightail it home, we then somehow employed notataxitout to negotiate the cab home for us. Notaguide was now demanding payment for his free services in order to buy some new ventalyn and was rather offended by my, thank you for your generous free gift of time, now as a small gesture of our appreciation please accept a couple of Euro so that you can go and have a sit down and a nice cup of coffee. I think his words were somewhere along the lines of what is this? Shortly followed by a rather convincing look of shock and disbelief, his eyes indicating that he might die on the spot without immediate medication and demonstrating once again the empty puffer. He was very nice and not threatening though. I gave him 5 Euro which to be honest he had earned, but is not a good starting point for negotiations when paying for a 'free service'.
Getting a taxi home was interesting, we'd earlier been warned it would cost at least 10 Euro to get home. Having explained to him that we had arrived for 4 Euro, Notataxitout negotiated with me until we agreed that a fair fare was 10 Euro. He took my money in hand and we went to the front of the taxi rank queue. Much shouting, waving of money, throwing money, forcing open doors etc later the driver simply drove off. These antics were followed by the next couple of cabs and four or five behind that simply drove off as we approached. Not a taxitout was running ahead to catch one before it left, my money waving in his hand. I could see a corner looming and got a bit worried, catching up and getting the cash back. I'm sure it was all a show but eventually a driver agreed to take us for the agreed price and notataxitout requested a Euro for his services, I happily paid as I thought the whole charade was rather worth it. The driving was somewhat erratic, the cab, an ancient Mercedes has no seatbelts and the driver spoke not a word of English. However the scenery looked familiar and we arrived back at the Marina safely. I asked Asia what she thought of the driving and the answer was' a bit like my go-cart driving really' those were exactly my thoughts too.
After paying the marina fees which thankfully were half price for the two nights of the rally, we left Smir with almost 15 Euro to spare. So my heart rate slowed down now that we were in the clear, we cast the lines and were promptly called back by customs, I'd forgotten to get our out stamps on the passports. Anyway without further fuss or error we set of for the Spanish Enclave of Ceuta 15 miles away on the African coast directly opposite Gibraltar.
---