Porto di Roma

Moxie - Beck Family Adventure
Mike, Denise, Asia and Aranya Beck
Tue 2 Jul 2013 10:52
41.01.77n 009.32.06e
In Sardinia we chanced upon another cruising family on a German flagged Amel, on the port spreader they flew a Canadian flag. So, not wanting to waste the chance of some kid time I popped over for the rundown. It turns out they had been cruising for as many days as we have years (3), well not entirely true but they are just beginning a one year gig. There was a big blow on its way, we wanted to catch up with Chanty and the Canadian Germans still had some marina contract time to use and dirt based things to do so it was a brief meeting before parting ways.
We headed for Olbia harbour, managed to collect something around the propeller when motoring into the harbour but as luck would have it we have a spare engine so were not left hopelessly adrift in the narrow shipping lane. We headed into the town quay and anchored up just out from it, a quick splash in the filthy polluted, but extremely warm, harbour water to investigate the tangle revealed that whatever was there had removed itself.
We visited Craig and Carol by dinghy and Carol kindly showed us around town the next day. The supermarket was 100 metres or so from where we could tie the dingy which was excellent. I also managed to get a local gas bottle despite a complete lack of language exchange, he only charged me 5 euro for the bottle deposit as I had none to exchange, then seemed to enquire how and where we were headed with our purchase (15 kg bottle). Before we knew it Asia and I were being escorted to a van and were delivered right back to the dinghy which otherwise was quite a long walk. What a nice man.
We followed Chanty to anchor in Aranci to sit out the storm, this is where we saw the huge fire. The following day we went south anchored in Taverna and had C&C over for BBQ tuna. Unfortunately BBQ'd previously frozen tuna is not a stitch on fresh and it was a bit dry. We decided to head for mainland Italy so as to visit Rome and hopefully Pompeii on our way east. Chanty went south and will cross directly to Sicily. It was so nice to catch up with Chanty again, who knows when next our paths will cross.
Classic yachts in Regatta
Thankfully the weather was not right for a few days to cross to the mainland so this gave us the perfect excuse to hunt down the Canadians whom we knew would be at or near Porto Rontondo where they winter the boat. We anchored up outside the marina and took the tender in to find them which we did pretty well straight away. The next few days were great with the kids having friends to play with, a lovely dinner aboard Hippodakki? and the obligatory Moxie sleep over.
Sleepovers on Moxie are now conducted camping style in the cockpit. Sol and Leonie plating DS with A&A.
We had a couple of goes at dinghy towing but on the second day there were too many jellyfish around.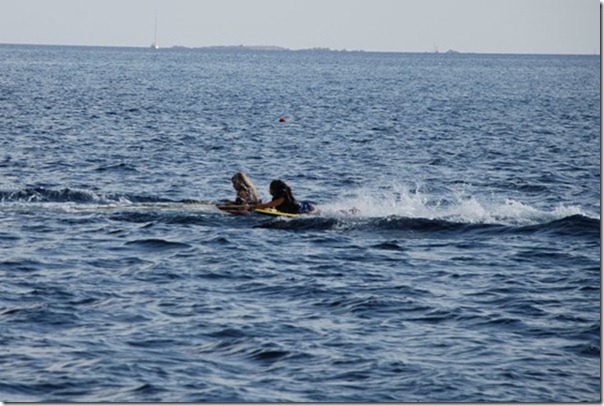 Asia and Leonie braving random jellyfish encounters (both were stung).
Shag or cormorant? Not sure but he left a bloody big mess behind.
We left for Rome 8am Saturday sailed at 7-8 knots the whole trip bar one hour at the end and caught another tuna 4kg. We must have been doing something right and I wish I knew what because for a while we were doing 8 knots in just 9 knots of true wind. What a great crossing it was and timed perfectly for the weather which is a nice change for us. We anchored at about 6am, so quite good time for a 130 mile passage, outside Porto Di Roma for a couple of hours sleep and went in at 9am to make the most of our marina time. The marina explained that there is no surcharge for a catamaran, they simply charged us for the two berths that we used, so 133 euro for the day which we managed to stretch to 5pm the next.
Again we found a squid on deck after an overnight passage, we had one crossing Mallorca to Sardinia too.
Getting into Rome was pretty straight forward, we were given excellent maps / directions / instructions at the marina office. Kids under 10 travel free on public transport and a 100 minute travel pass that can be used on bus, train, metro costs just 1.50, it took about 40 minutes to arrive right at the Colosseo.
Outside the Colosseo we were constantly accosted by ticked touts selling package deals that added guided tours, bonus entry to Palatino and most importantly we would skip the queue saving us at least an hour of waiting for tickets (family price 96 euro). We headed for the cheaper option, joined the queue for all of 5 minutes, bought our tickets for 12 euro each (kids free) and upgraded to the guided tour option 5 euro each (kids free) plus we learnt that the Palatino entry was included in the ticket. So 34 euro for pretty much exactly what costs 96 from the touts. Actually we breezed past all the mugs waiting for their tour to start and our group was only ten people versus about 35 on the 'VIP' tickets, nah nah ne nah nah!
The sun was relentless, no wind and next to no sleep last night – it seemed like a long day but what a great way to get a history lesson.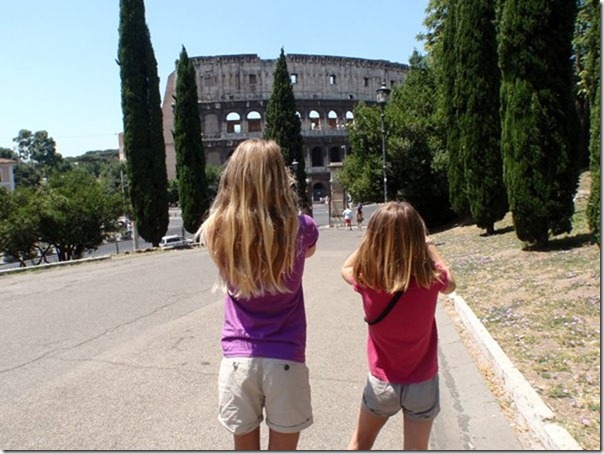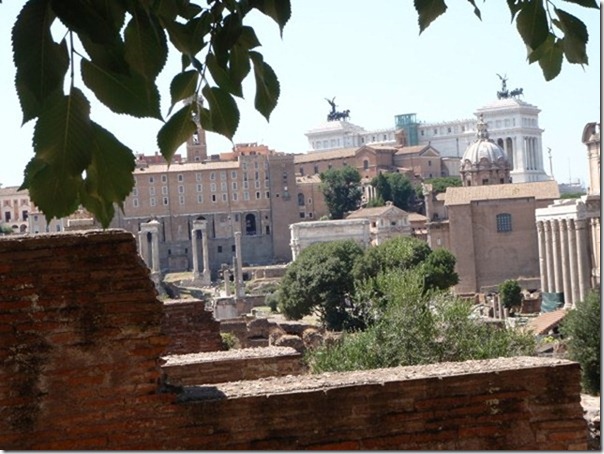 Ostia (where the marina is) - endless blocks and blocks of apartments, barking dogs, dog poo everywhere and urine smelling streets, not somewhere I'd choose to live.
After a single night in the marina we again anchored outside for the night, this time we were plagued by mosquitos all night. So although there is no wind we find ourselves today moving on under engine towards the island of Ponza. Actually mosquitos, tiny as they are, have had a major impact in this area due to malaria that used to be common here. A lot of swamp land has been drained as far back as Roman times specifically to regain control from these sleep depriving pests.
---