Baiona, Islas Cies again, Islas Ons, Combarro, Sanxenxo

Moxie - Beck Family Adventure
Mike, Denise, Asia and Aranya Beck
Wed 18 Aug 2010 16:14
42.23.30N 008.55.45W Combarro
Baiona
Another day in Baiona - we moved out to anchor and took the dinghy ashore. All harbours in Spain have been littered with mooring buoys for local boats, each one has a shore line attached. Navigating between all these little boats and tangles of semi submerged ropes to get a dinghy ashore takes a bit of concentration. The weather forecast looks pretty rough (thanks Dad we know!) so we will stay around here for a few days for it to pass. Our next passage is a 12 hour sail down the Portuguese coast with little in they way emergency bolt holes.
Rescue 2.
On our trip ashore we were beckoned to a marina pontoon by a Dutch family, they had locked their dinghy to a marina pontoon and had arrived back to find that it had been moved off and out to a mooring buoy. The marina staff had obviously been unimpressed with them making free use of the facilities and had cut the padlock to teach them a lesson. Anyway we were able to shuttle them out to the mooring buoy and they were soon on their way again. Lesson learnt there then, we (per usual) tied our dinghy up at the harbour wall. Also I have discovered that I've been suffering from flaglexia, that's where you get the Dutch and French flags confused - or the German and Belgian ones same colours different stripe direction- oh well it's not like the NZ one is particularly unique either guess.
We took a nice stroll around the old town although Asia earned the nickname of 'Donkey' - (Shrek again) as it was a continuous barrage of questions all day, even today she is still in hyperdrive. Kids eh! We found a fishing store that spoke English so now we have the right kit and can hopefully get a tuna or two at some stage. Oh and of course another domestic appliance, cordless vacuum cleaner to keep on top of all this sand that the kids drag back in their clothing every day... and a fly swat, having been in England so long we hardly remembered what a bloody pain flies are. I don't know where they come from but Moxie must seem a nice refuge from the heat or something. Oh yes and new beach shoes for the kids - Asia's strap broke within 90 minutes - but they were happily exchanged. Cities = expense = time to move on so at 7:30pm we headed back to Islas Cies 3 hours into a force six and two metre swell - worth it yes. We did not want to be stuck in fog and it rolled in really quickly last night, we'd seen it over the mainland harbours from Cies every day but it was never a problem on the Island.
Fog rolling into Baiona A barely visible Pinta.
Islas Ons
Again we chose a beach to anchor where there were no other yachts, strange because it was offering more shelter and was away from the tourist ferry wash. Perhaps because it was the nudist beach - again. Oh well, we settled in and the beach was pretty empty so went ashore, had a bit of a walk around the mostly barren looking island (grasshoppers, butterflies, lizards, birds, gorse, thistles, seagulls and ocean views) that sums it up. Back on the beach the girls played with their dolls in the sand at the more deserted end of the beach. 30 minutes later around 10 women were parading around us with matching no-kinis. The kids mentioned it in passing but it was no big deal to them really.
10 naked ladies beside us. Another Moxie at anchor shot
Another blue 473 pulled in briefly to the anchorage it was cutter rigged, something we had considered doing too. We watched from the beach as they set their anchor and noticed well before they did that it was dragging. Later the blitzed past us on a close haul using their jib versus our heavily reefed genoa. The Spanish flag indicates that they are probably 3 tonnes lighter than us too. Did I mention the beard we have growing underneath, um yeah OK we lost.
Combarro
Wow, we are glad we stayed around rather than rushing off to Portugal, Combarro is a real gem and should not be missed. The old town area is really pretty and there are even English translations on the tourist information signs.
Our dinghy tied up with the fishing boats and a local guy rescuing his neglected boat Fishermen use these cages on long poles to dredge up shellfish from below by hand, hard work!
The old town
So those grain stores we saw back at Sardinero, there are loads of them here and the are called horreos, used for storing grain, corn, potatoes and occasionally dry cured ham and fish.
There are several of these Crucerios around the old town. A crucifix with Jesus facing inland and Mary facing the sea. They were placed where witches gathered in order to Cristianise Pagan cultures. Most of the shops in the old town sell witch dolls, broomsticks and the like. Curiously everyone also seems to sell tropical sea shells, and loads of things made from shells. We were sorely tempted to buy a sea shell light shade, yeah right, but it did make us giggle.
Combarro old town is crammed with seafood restaurants so we tried our luck after taking a quick shot of a menu down the road with English translation.
We tried baby cuttlefish in Salsa and pimentos which are fried green peppers. Local tradition is to slip in a chilli to catch the unweary. It seems that I was having a very unweary day as the first two I tried were indeed chillies. Luckily we had a plentiful supply of wine, the bottle we had ordered turned out to be a two litre pitcher of white wine and this came with a couple of shallow ceramic bowls. At first we were not sure if this was finger bowls and lemon water so we sat for a while and watched what the 'Romans' did. If I was slurring when we left I assure you that it was because my mouth was numb from the chillies.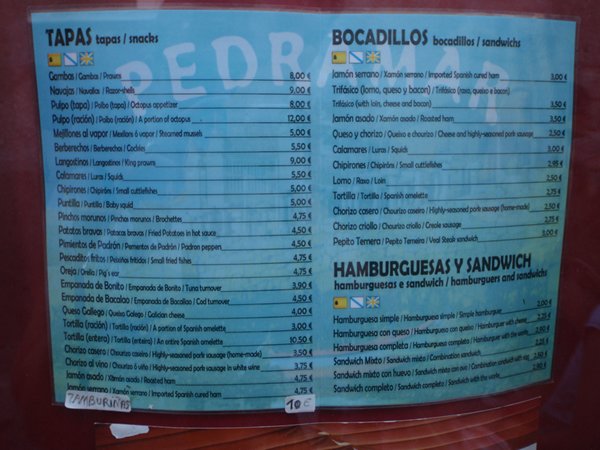 Aranya trying her luck with the peppers. Our cheeky menu translation book
Sanxenxo
We have come up to see Adam and Suzie whom we know from Gosport. We asked about dolphins mentioning our disappointment, Stargazer left a week after us and have seen 2 pilot whales, 2 sunfish and dolphins twice too, we'll see something soon I hope. After several bottles of wine enjoyed on Moxie last night Adam and Suzie returned to their boat hopped aboard safely and were adjusting the painter length when the attachment strong point came undone setting the dinghy adrift. Adam sobered up very quickly I'm sure during his midnight swim in 14 degree water. A lucky escape it was much better than finding the eye on the rope in the morning.
Adam and Suzie on Stargazer Very impressive bronze sculpture
The music blares out from the beach here all day and all night, it is dead calm today and foggy so we are staying put. This is a really busy tourist town the beach gets really packed, we have been to the supermarket and picked up (and paid for this time) wifi from the marina which we are anchored next to.
Thanks those of you that are keeping in touch, it's nice to know these archives of ours are not disappearing into a black hole and to allow others to join our adventure.
Spares, well all that could be dried has been stowed away again now we just need to find a bin for 12 brand new but slightly damp and a little sandy now too filters. Fortunately I had stowed one of each filter in a different place so not quite all is lost. Now we just have the hassle and expense of replacing them at some stage, mice and men is it?
Power. The good news is that it does get in! After our visit to the marina and shore power we were fully juiced up but reading minus 120 amp hours. I'll need to find time to move some cables around at the shunt, it is rather shocking to see how much power we get through though.
---