Porto - They warned us about the fog in Portugal but...

Moxie - Beck Family Adventure
Mike, Denise, Asia and Aranya Beck
Tue 24 Aug 2010 20:20
Leixoes 41.11.04N 008.42.45W
This is the nearest marina / anchorage to Porto.
Having anchored at Islas Cies for the night we set off just as a localised patch of fog rolled off the other island. Remember what I said about the fog being away in Baiona and not at the islands, well anyway by the time the anchor was up we were in a patch of light fog which did not concern us a lot as 'we knew' it hug the coast and would burn off by mid morning. OK so today we knew nothing, the wind stopped and the fog set for the whole day. The sea was calm for the whole trip but visibility ranged between 50 and for a brief time 1000 metres. During the Biscay crossing Asia had mentioned that 'the sea is a circle', well today that circle was very small indeed. It's like being in a bubble. It was a great test for our Raymarine kit, don't leave home without AIS and a decent radar, do buy yourself a radar transponder seame or echomax and AIS transmitter will make you feel even safer. We don't have AIS transmitter as they were not available when we upgraded our kit but we'd be a lot happier if we did, we do at least have the receiver so can see those big nasty cargo ships in the virtual world at least.
Ye goldplated Raymarine, long may he live Changing the courtesy flag ceremony (in good vis when we allowed the girls forward).
Fog is scary and we were in it for 12 hours today, not something either of us want to repeat. Whilst at sea it is OK, every now and then a fishing buoy or three jumps out into you path in front of the boat but all the big things like fishing boats, ships and land can be seen a few miles off on radar or AIS or both. Trust me it's not nice but at least with all the electronics working everything is manageable particularly in the glassy sea that we had. We passed right by our intended destination, and the next in the hope that the fog would clear for our entry. It didn't and with night approaching we entered Leixeos in thick fog 50 metres max visibility. Denise showed fantastic courage under fire and together we braved the entrance both keen to get reattached to land ASAP. The narrow entrance was just visible on both sides as we crept in but right at the narrowest part two massive tug boats appeared from the soup bearing towards us. They'd obviously spotted us earlier on radar and were waiting but with everything else going on in close quarters it was an unwelcome sight. As soon as we saw the first anchored yacht we threw ours in too and caught our breath.
During the passage I spotted some unusual patterns in the water, there were hundreds of small crabs that seemed to be migrating in open sea 60 metres or so deep. There we so many that I was easily able to catch one with a landing net for closer inspection.
Our first bluewater catch and release.
Porto is of course famous for port - it's the red stuff and is best left until after dinner (non yotties the port light is red and on the left side). So we did the tourist thing and toured the port cellars and tasted the wares. Did you know that a non vintage port can keep for 8 to 11 months after being opened? Oops...
Mostly we have found the Portuguese have quite good English which makes life easier. We also noted that McDonalds in Portugal serve beer, I wonder what happens at a drive through, go large? Some of the architecture is fantastic but we'd not like to live here, Porto does not look to be a particularly prosperous city.
It's not every day that someone detonates explosives next to your boat.. err except here that is and it's twice per day.
They are dredging the harbour very close behind us, we can see the nicely displayed day shapes they are very close four in all. Today we moved the boat as the wind had swung around and we were sitting safely but unnervingly close to the breakwater. Our plan was to move 50 metres further into the harbour but after lifting the anchor the harbour police approached and explained that we should move back where we came from as there were about to be some detonations to do with the dredging. So we were moving back and a pilot boat came up and gestured for us to move further out - all very confusing and then the anchor windlass jammed so I had to rig up the spare anchor and dropped it but the pilot was still indicating for us to go forward and I could not use the windlass ay yai yai - so we stayed put and then 300 metres away they detonated their explosives. We were quite OK though and there was another yacht much closer than we were and the anchor windlass can wait until it stops raining. Well they continued working through the night on the dredgers and at 8 am there we more explosions, and then again at 8:30pm. The harbour Police have just been over to inform the next ones are 8:00 tomorrow but we plan to be gone. The explosions are proceeded by three horn blasts, then a very sharp crack, the shock wave hits Moxie with quite some impact, the water boils for a time and then the seagulls arrive to pick at the collateral damage.
Dredging barge with harbour entrance in the background.
We are now stuck here it seems due to poor weather the wind is either non existent, or from the wrong direction it has been foggy every day and it's a grotty commercial harbour 40 minutes or so by bus from Porto but at least we are at anchor which is free, plus the marina wifi is open and in reach which is a real plus for getting updated (albeit unfavourable) weather info. Not the greatest introduction to Portugal, it's cold too I've even put jeans and socks on today for the first time since leaving England. Today we played Monopoly, tomorrow I might revisit the dougen wiring and look at why the windlass button jammed on. On the bright side The Famous Five found the gold ingots today!
OK next day now windlass buttons dismantled and reassembled and seems to be working fine and we have been for a wander left out of the marina to a fantastic surf beach immediately on the other side of the harbour wall. Strange this wee gem was almost missed but today has been brilliant sunshine, no fog and no wind. We even ate out again tapas style a selection of cockles, octopus, prawns, fish cakes, beer, wine, deserts all right on the beach front in our sandy and wet clothes. Best meal we have had so far on the trip and it tipped the scales at a touch over 40 euros all in, less than a night in a marina - given the choice we'll take the meal out any time. Portugal you have redeemed yourself a little.
On a bad note the shocking UK property system has bitten us. 6 weeks after accepting an offer on our property the buyer simply changes his mind without giving reason - thanks mate.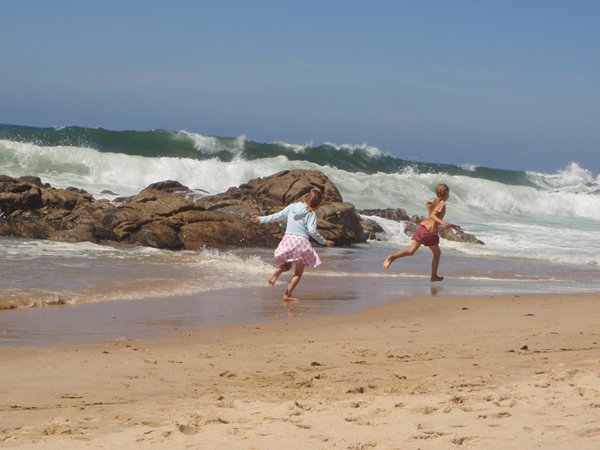 True happiness, all you need is a nice day and a beach.
---