Gib 100 ton Gun - Spain - Sunfish- Fuengirola

Moxie - Beck Family Adventure
Mike, Denise, Asia and Aranya Beck
Thu 7 Jul 2011 19:48
46.32.45N 004.36.99W
In Gib, during a Westerly which we had for a couple of days the exhaust smell from ships, I guess, was making me feel quite ill. I decided that it's probably not a healthy place to live. Some idiot Frenchman parked next to us while I was out with the girls, despite having 15 metres of space he managed to bash into Moxie, we didn't notice any damage until after we arrived at the next port. Moxie now sports a nice big French racing stripe on the Starboard side.
Fairly close to the airport here, and this is the space the Frenchman missed!
School trip to the 100 ton gun. It's over 100 years old and was powered by steam driven hydrolics, it took at least 3 hours after lighting the fires to build up enough steam to move the gun into positon. !100 years ago that was fine as the ships were slow and would take four hours to be in range to fire after being sighted.
100 ton gun.
A 100 ton gun projectile, it had an 8 mile range.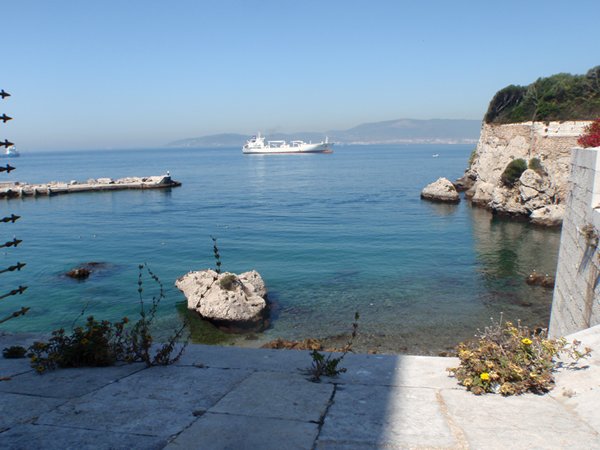 Rotea bay, where I had a dive and where Victory came in for repairs after the battle of Trafalgar.
We left on a beautiful flat calm day, the sea was so still that the Rock was reflecting nicely as we motored past on our way north. It also highlighted the pollution issue. The forecast had granted us a 3-4 westerly in the afternoon lunch which suited us nicely for our 50 mile passage. Unfortunately the afternoon in Spain seems to mean 22:00 or so - i.e. we motored 50 miles.
Smoggy, yuk!
Leaving Gib.
We saw many floppy black fins, smaller this time and some close enough that we could definitely see the sunfish below, definitely not a ray (so our French expert was mistaken - I was extremely skeptical of that). Surprisingly we startled one and it leapt clear out of the water skipping twice. Such a peaceful looking animal certainly does not look like it would give such a turn of speed and power. I guess faced with being Moxied in half or exerting energy I'd do the same.
Sunfish!
Being close to Malaga Airport, Fuengirola is highrise city, well the entire coast here is. At the marina there 20 or so restaurants with the menu's in English.
---