Fw: Cueta, Northern African, Pillar of Hercules.

Moxie - Beck Family Adventure
Mike, Denise, Asia and Aranya Beck
Sat 2 Jul 2011 16:00
35.45.17N 005.21.23W
Nice easy hop 15 miles from Smir in Morocco to Ceuta in Spain (well still in Africa - it's one of the last Spanish enclaves, Spanish Authority, Spanish time, Spanish language, the Euro and no shops open between 2pm and 5pm).
The impossible photo, taken off a poster wall in the museum. It's an aerial view looking from the Atlantic through the straights of Gibraltar into the Med. Top left peninsular is Gibraltar, top right is Cueta. In Greek mythology these are the pillars of Hercules. Hercules wrenched apart Africa and Europe creating an entrance to from Ocean to Sea. There are two fantastic statues of Hercules performing this feat in Cueta, unfortunately we managed not to photograph them.
It was another stern-to mooring with pick up lines, bit trickier with a crosswind but again without incident, so much for the finger pontoons mentioned in the pilot book. If you have ever wondered if it is difficult to dock a 50 foot yacht in a marina then just imagine pushing an overloaded shopping trolley the size of a bus, on an awkward slope, whilst wearing roller skates, through a carpark full of Ferarris, yeah it's that easy. Now think to yourself how good are the yacht instructors, how good is Ken Walker? Ken is the legend that gave Denise and I, in a force 8 gale, parking lessons the first week we owned Moxie, nerves of titanium, the patience of a desert seed awaiting rain and boat handling skill that makes it appear to be an effortless art form. Actually, Ken has provided all of our training - we would not be here but for a touch of Mr Walker's magic. Even now we are under the watchful eye of (soon to be) Mrs Walker, thank you Ken and Lisa, but I digress...
A pillar of Hercules, Cueta, at exactly 12pm every day a cannon is fired from here, the sonic shock wave is impressive.
Cueta is very pretty very, very clean and has a massive amount of history. We really liked it here and stayed for 3 nights despite the 2x Gibraltar marina charges.
An open tomb complete with real skeletons, upon discovery a museum was built above the site.
Told ya.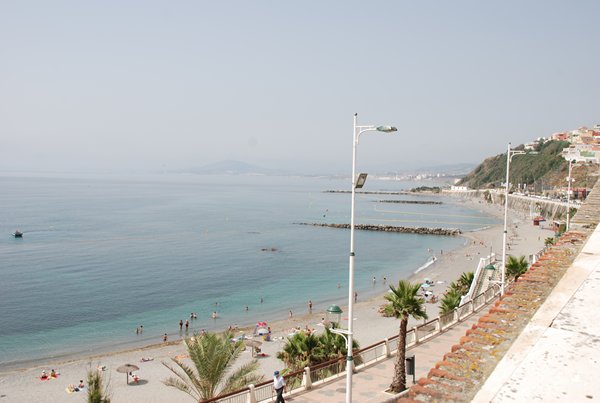 Fantastic beaches of Cueta, Smir in the distant background
Sculptures aplenty, this being one of my favourites.
and the double A's favourite.
And are not quite sure what this one is all about, but things are looking a bit sinister.
Right next to the marina is a beautiful swimming pool. It's a salt water pool and is massive, the whole place is like a five star hotel setup (actually, just what I imagine that must be like). Still pre school holidays so there was hardly a towel guarded chair to be seen.
---