Long time no Sea

Moxie - Beck Family Adventure
Mike, Denise, Asia and Aranya Beck
Sun 22 May 2011 20:41
We are back!
Moxie is back in the water and we are settling back into life afloat.
SUMMARY
Small problem, small problem, small problem...waiting, waiting, waiting.
Everybody off, we are about to get wet again.
We returned on May 10th and spent 2 or 3 nights in the hardstand while we reassembled things and got organised. It's a pain being in the yard climbing the ladder to get in and out, not being able to use the loo, etc but at least we were allowed to stay aboard, I don't think it is permitted in Spain. Our new propeller had been fitted while we were away however the installer forgot to put the rope cutter on so it had to come off again. I tried to do this myself however it soon became very clear that we were going to need some specialist tools in the way of a heavy duty gear puller, funny because last year we were tried several times to find a spot to dry the boat out so that we could undertake an emergency prop replacement. I am now very pleased that we didn't manage it, we had next to zero chance anyway. With the boat on the hard stand it is very clear why we had trouble attempting the dry out. Our documentation reads draft 1.8m (shoal keel), our tape measure reads 2.2m (standard keel), so this clearly explains why last year we grounded in the Guadiana river attempting get alongside a wall in measured depth 2m. I'm pleased we have the standard draft but it does raise our eyebrows here as for the past couple of years we had been doing all our depth planning assuming 1.8m plus 0.5m saftey, I'd imagine that we have had quite a few very close calls.
1.8 metre draft, Yeah Right! 1.8m keel perhaps, draft is another matter. 2. shiny new prop.
The lift was unnerving but went well, it is very odd watching your own boat driving around the boat yard. To our great relief Moxie started immediately and we were able to motor out WITH EFFECTIVE PROPULSION! This in stark contrast to our last 100 miles of yachting last year when with a crippled propeller we had only 1 knot of thrust available. All was not quite perfect though as our bow thruster had decided to die over the winter, thankfully it was a calm day and we didn't need it, we headed straight into the marina to bridge ourselves back into things. The bow thruster failure turned out to be a faulty switch so once diagnosed the repair was straight forward.
Time to test the generator then. Yes more of last years unreported problems, the generator packed up and had to removed and taken away for a rebuild. Anyway it was all fixed and reinstalled over winter and now with Moxie back in the water it could be started up and all should be well. Unfortunately all was not and so the saga continues, the engineer is coming back from Lisbon to repair the exhaust hose which is all twisted, scrunched and split at the connection to the generator. Upon startup this caused the entire boat to be filled with stinky exhaust fumes, actually I think this was probably caused by the original installer as we were having (lessor) issues with fumes right from Biscay. Even so the fault is obvious and it is quite shocking that it was not noticed (or ignored?) during the refit.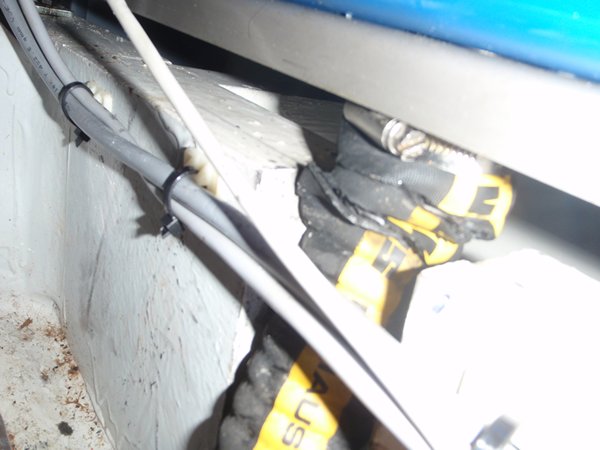 Generator exhaust hose...Grrrr.
Another thing we organised last year was all the kit to convert out Tinker rib into a sailing dinghy, we had it all shipped out to Portugal and the plan was to make the required changes in the first week we were here. Well as I write this we have been here 12 days and we are still awaiting some missing parts that have prevented us getting started on that project. I must say that in terms of putting things right however Henshaw Inflatables have been excellent, but it is frustrating nonetheless. We are expecting to get everything here by around Wednesday so all going well we will be able to get moving early next week. Low season in the marina ends in a week or so if we are still here we will need to move out to anchor.
I was unable to get our little Johnson outboard started so spent a frustrating day stripping it down, eventually the fault was diagnosed as a fuel blockage in the carb. Thankfully the second outboard was working fine so I was able to ferry the Johnson off for repair. I found a Ukranian guy named Stefan who sub-lets a shed in an Itallian bloke's shipyard (Angel Pilot) that a Frenchman (Tim Yachts) had told me about. It's all sorted now.
Gas, these days it seems that it is impossible to get gas bottles refilled, everyone works on an exchange bottle system which is not exactly convenient when changing countries on a regular basis. I spent half a day chasing all around town trying to get more gas, in the end we have had to buy a new bottle (effectively 70 Euro for 4kg of gas), I doubt the Spanish will exchange this bottle so we are probably up for more of the same hassle later. Good news is though that Sopomar have opened a chandlery in Portimao as of 1 week ago. The are extremely helpful and have sorted out a decanting hose for me, this means we can decant a standard large household bottle into our boat bottles, in theory meaning we can take the gas out of a local bottle and take the empty back for a refund (the gas itself is only 12 euro or so).
Next to go was the laptop power adapter so that prevented all good intentions of catching up on some work. It took 5 days but I have a replacement now, good intentions are back in the pipeline.
Weather has been a mixed bag, howling winds and a thunderstorm mixed in with heat. We have been down to the surf beach a couple of times, I lugged all the wetsuits down with us only to find that the water is lovely and warm. The other day we booked in for some surfing lessons, but when the day came it was the thunderstorm so we took a raincheck and there has been no surf since.
Denise has kicked off the boat school program full steam ahead, the kids have accepted it about 80%, which is a marked improvement on last year but it is early days and even still is quite tough going.
Asia getting in some rowing practice in the tinker.
I think we are finally restocked with groceries now, the boat is half clean (only 50 more feet of polishing to do), soon enough we'll have to see what the big stick in the middle of the boat is for and put some of those raggy things up to catch the wind or summik like that.
swim
---