Where the heck is Albania?

Moxie - Beck Family Adventure
Mike, Denise, Asia and Aranya Beck
Thu 25 Jul 2013 19:44
26 July 2013
35.52.29N 20.00.21E
A couple of days after arriving in Greece we met John and Erin from Auckland also on a FP Salina. Turns out that they had plans and the know how to clear into Albania which from Corfu is just a few miles away. What do you want to go to Albania for asked Denise, well John and Erin wanted to reset the VAT clock by exiting the EU, I just wanted to queue for bread. OK so communism is dead for a few years now but not so long ago we'd have been shot at for attempting to land a boat here. Clearing in was very easy, 50 euro to the port agent who met us and took our lines, we handed over papers and passports, 40 minutes later all were returned and we are done – no forms, no queues, no bribes, all good.
We were moored up on the wrong side of customs right next to the port police. One day the girls said to me that the men on the boat had been holding huge guns and I quote 'I thought that those sort of guns were only on movies'. BFG's.
OK then that's clear.. so guns outside the port, that's cool right?
During the communist years it seems that they couldn't care less about ancient history which meant no digging. Just a few miles away from Sarande we have the beautifully preserved recently excavated Roman city of Butrinct.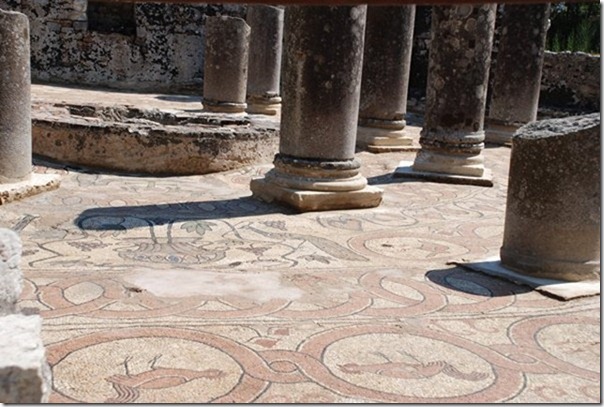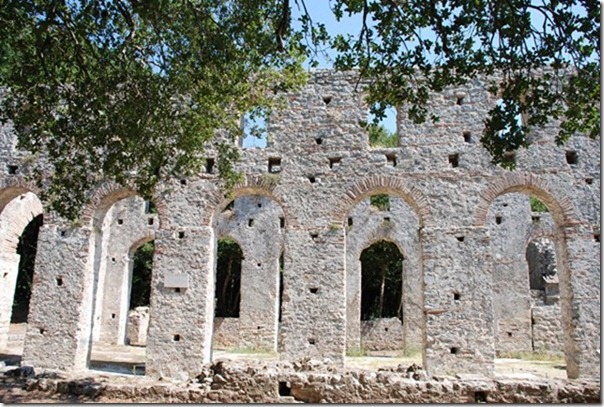 John and Erin fellow Kiwis own a Moxie sister ship 'Zee Kiwi'
the Lion Gate
Pretty cool for a pile of old rocks, and half of it is still underground.
Next on the sightseeing list was the Blue Eye, an artesian river, it just pops up in a torrent of turquoise and freezing cold water forming and instant river thereafter.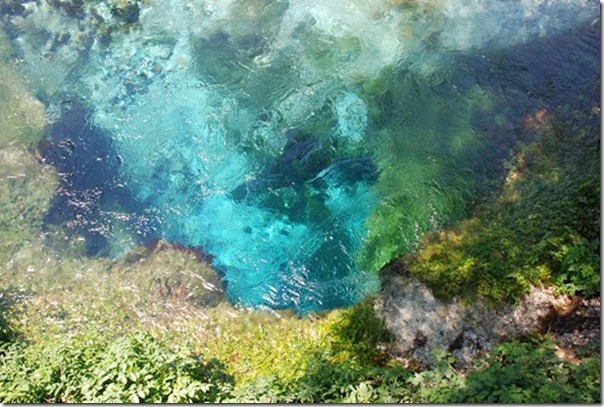 Blue Eye
Instant river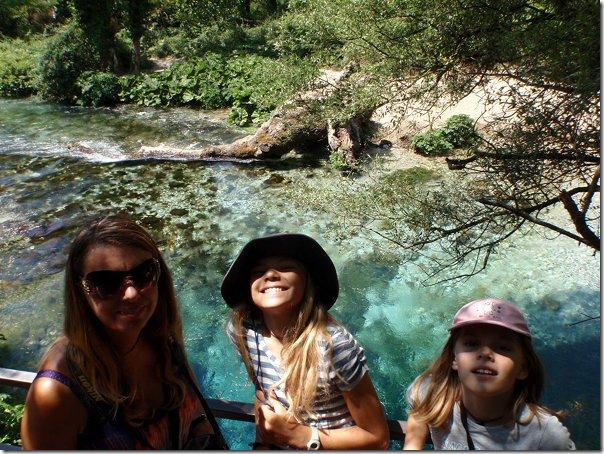 Dinner out in Albania was one of the best we have had anywhere, the kids pizza certainly trumped anything we had in Italy. And the bill, drinks included just 20.23 euro. We really enjoyed our couple of days here, and fortunately there's no need to queue for bread.
---