Cascais - Lisbon - Rui the ambassador of tourism, Kiwi anchor trouble, a Moxie sleepover

Moxie - Beck Family Adventure
Mike, Denise, Asia and Aranya Beck
Wed 8 Sep 2010 21:43
Cascais 38.41.88N 009.24.80W - Sept 9th
We love it here and so have parked up for a few days, actually this is the longest we have stayed anywhere so far. There's a lovely swimming beach with a gentle breaking wave - perfect for body boarding, the water is a very pleasant 22 degrees, the supermarket and train station are close - visible from the anchorage, it is not overly touristy and we are well protected from the sea. No free wifi though so still room for improvement lol! (Update apparently there is free wifi) - I guess it's perfect then eh?
We spent a couple of days with a former work colleague, and come to think of it my boss for a while, Rui Costa. Rui now lives in Lisbon and was host extraordinaire giving us two days of his time to welcome us to the city, show us the sights and share his impressive knowledge of the local history. We cannot thank Rui enough for putting up with us and the thankfully very well behaved girls.
Belem is a wonderful town with a magnificent cathedral that houses the tomb of Vasco da Gama, one of the worlds most significant naval explorers (OK I'll admit he was not big in my history lessons either). da Gama was the first European to sail round the Horn of Africa to India opening up new and lucrative trade routes that brought much fortune to Portugal before eventually the 'pirate' nations of English, Dutch and Spanish jumped on the bandwagon and essentially stole it away from them.
Vasco da Gamma's tomb.
The riches that have been poured into the building and adornment of the cathedral are astounding, much of the fortune spent on latter decorative additions came from Brazillian gold and diamonds (the second coming of Portugese wealth).
Rui purchases a traditional treat for us Pasteis de Belem, these are as compulsory to try as strawberries and cream at Wimbledon. They are a cupcake size flaky pastry filled with a custard filling and sprinkled with icing sugar and cinnamon, lovely. Waking along the main road in Belem we heard a 'hello' from a car that had just pulled out of a parking place, incredibly it was the father of the two girls A&A had been playing with at Nazare.
Rui at the monument to explorers.
Belem also houses a monestary, an impressive looking carriages museum, lovely gardens and monument to explorers with a historical movie well worth the visit.
It was the Portugese that first crossed the Atlantic to South America.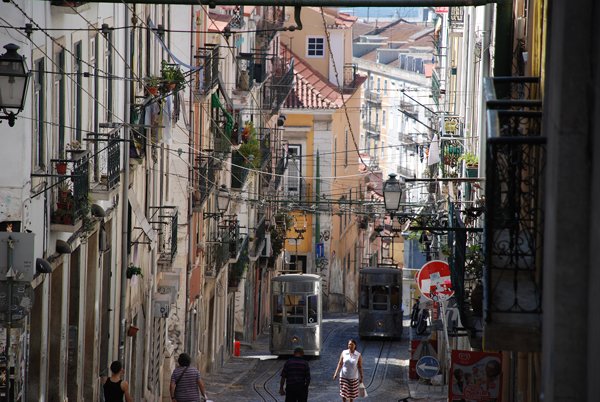 Next up was our tour of Lisbon city, lisbon is all up and down and there are several trams around the city to take the effort out of these steep and narrow streets.
I love all the cobble paving around Lisbon, some of it is highly decorative and it must be quite a skilled job.
Lisbon was hit by a huge earthquake which destroyed much of the city, there are still ruins standing where the effects are evident. Two days after learning this Christchurch in NZ was hit with one. We went to the square for lunch where the revolution had happened, tanks had somehow rolled into this part of town up the narrow streets. After Lisbon we went out to the World Expo site (88) I think. It's huge and a fantastic legacy for the city we visited the Marine aquarium which was very impressive. The kids favorite was the very playful sea otter who constantly groomed and sommersaulted in the water before us (he was very hard to photograph), I quite liked the puffins along with the huge manta ray in the main tank.
We managed to get one photo of the otter in a rare moment of calm activity.
Volcano fountain, one minute it's a tranquil tiled urn with running water then bam, there are a whole row of them at the expo site.
We were approached one morning by Kim Oliver who rowed over from an American flagged Yacht Naia, she'd spotted the girls and came over to arrange a play meeting with her 10 year old Hannah. Kim and John Oliver have spent the past 12 years living on their yacht, Hannah knows no other home. We had a great time for a couple of days with the Oliver family and Hannah was our first overnight guest which the girls were thrilled with, mixed reports here but the highest bidder on lights out was 4am. It's a bit embarrassing how large and luxurious Moxie is compared to what is proven to be perfectly adequate by this intrepid family - respect! Naia is a lovely looking boat but whole different experience to Moxie, she's a lot smaller for a start less than 30 feet waterline so inside there's only one door (for the heads) space is at a premium, Hannah thought it was incredible that the three girls were able to sleep together sideways in one of the aft berths where the beds are king size.
The anchorage is very very calm and there are always mullet swimming around the boat. This is the first place that we have been for a proper swim, the water is lovely. One thing we have noticed here is the growling of the anchor chain, something I'd read about but a new first hand experience for us. As the boat moved gently in the breeze the chain must rub over the odd rock and sends the reverberations up it's length to the bow, it's not anything to worry about, actually it's grown on me and I now hear it as a comforting reminder that we are attached.
I've been for my first dive too. A New Zealand yacht 'Beond' had snagged and abandoned mooring block and chain so I dragged out the scuba gear for a test run. By the time I arrived there was quite a party going on with three other tenders there (and 4 men from 4 nations all called John), they'd already been trying various ideas for a couple of hours I think but in the end scuba was the only option going so while everyone else enjoyed a well earned coffee I descended 7.5 metres and wrestled the anchor free for them. It was a good demonstration of how strangers can band together quickly to help each other out in times of need. It was also good to get back in the water and to discover that I needed new rubber straps on my flippers (they were perished and broke immediately) at a non critical time. There's a dive shop directly in front of the boat so getting replacement fin straps was a quick trip in the tender to the beach and back. Earlier John had seen another yacht with anchor probalems, they had managed to spear the point of their anchor onto another old lost anchor and had pulled both back to the surface. In Cascais I seems to be better to anchor more on the beach side, John had snagged and had to dive his anchor is Cascais 6 years earlier too. Thankfully come time to leave we had no issues.
We took a bus to the historical town of Sintra about a hour from Cascais, there are a load of fancy old castles there so we checked one out and went to the somewhat disappointing toy museum.
"Rupunzel, Rupunzel - Oi who are you two?"
Quinta da Regaleira in Sintra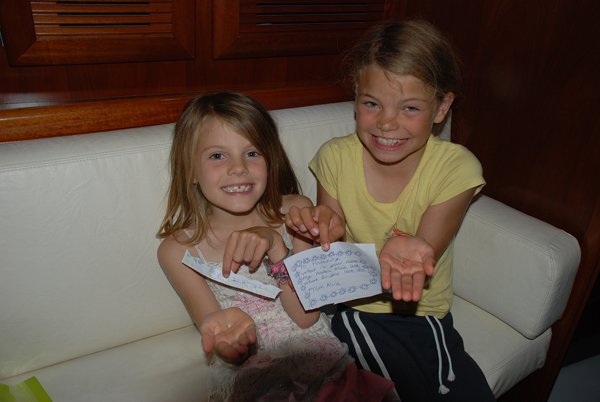 Double As, they both lost a tooth on the same day.
---