Crossing Continents - Gib to Smir, Morocco

Moxie - Beck Family Adventure
Mike, Denise, Asia and Aranya Beck
Fri 24 Jun 2011 15:56
The long hot days started getting the better of us so we decided to install an upgrade on Moxie, having seemingly fitted every possible yachting extra already some thinking outside the box was required and we settled upon a swimming pool.
We hung around in Gibraltar for a few more days and again met up with Chanti whom we found were moored in Ocean Village, the'd been at anchor a few hundred metres away in La Linea (Spain) but had come to visit the rock for a couple of days. As South African Passport holders this turned out to be a very expensive decision, Chengen? visas are not valid in Gib and getting a local visa on arrival costs £300 each! It was a chance meeting for us but very worthwhile as Craig told us about the Gib - Morocco Rally leaving on Friday. Unfortunately Chanti could not join as they had exhausted their visa and could not stay to Friday. I'd been trying to convince Denise that we should get ourselves over to Africa and the rally closed the deal. Also we really hoped that there would be a few kids involved as we have been through a bit of a drought, where are the cruising families?
The Rally is in its 11th event and is organised by local resident Derek Pennington on MV Albany, Ocean Village. Laid back, silver haired, cigar smoking, tanned and happy - Derek recons he only stopped in to Gib for diesel, that was 6 years ago. We attended the skippers briefing on Thursday night at Charlies bar in Ocean Village, goody bags were dispensed containing shirts, hats, frisbees, wine, coolie bags and a bunch of other stuff.
At Charlies we met a couple and their grown up daughter, she'd been home schooled her entire life and then went off to university, much discussion followed. The crux of the conversation was that teaching kids does not have to be rigidly following a curriculum, learning can and should be fun. Basically you need to teach the kids how to learn, to be investigators, to research etc. It's something we have heard time and again, but there's a huge leap of faith required to step outside the box of the standard education system, throw away the conventional text books as it were, - we are not quite there yet but school is challenging to say the least and something needs to give before it breaks.
An even more surprising meeting in Charlies bar was to see Roger and Jas who we'd met at the cruising association in London a couple of years earlier. Denise had already randomly bumped into them in the UK soon after they left as they were pottering down the coast of England, so meeting up again is flukey in extreme.
www.svoceansunrise.com
The SV Ocean Sunrise plan was to take 3 years on a voyage to Darwin in their 27 footer. Everything was meticulously planned, I've never met anyone with such a clear definition or objectives. Things change however and here they are currently living in southern Spain with baby Aisha. The cruising plans have been put on hold for a spell but have not been abandoned. These guys are my hero's - determination and resolve (and a healthy dose of ARE YOU NUTS?). Roger had joined the rally too and it seems that 2 and a baby were not enough of a challenge so he brought a couple of guests - where everybody slept I have no clue. Little Ocean Sunrise took 10 hours for the crossing - we took 4. Darwin is a long way indeed at that speed but best of luck to them, oh and if you are stonking rich they could do with some sponsorship, they are well worthy of it
www.svoceansunrise.com
.
Roger and Ocean Sunrise in Smir Morocco
The race to Morocco started at 13:00 outside Ocean Village, so there were 30 boats milling around amongst the anchored tankers and cargo vessels waiting for the start gun. The rally is open to all entrants and the vessels ranged from SV Ocean Sunrise at one end to a 65 foot gin palace complete with Persian rugs at the other. Being on the wrong radio channel and not wanting to go bump we hung back and took a delayed start. Wind conditions were a nice 15 or so knots but the forecast was for more so we started out with a couple of reefs in the main and one in the genoa - pretty conservative I thought. Well as it turns out the big rock causes some very unpredictable wind patterns in the harbour and shortly after the start we saw some commotion ahead with yachts weaving this way and that being rounded into the wind. Gee I thought, I'm pleased we didn't join the mele with all that going on. The wind started to rapidly increase and very soon we were losing steerage due to being over canvassed. What happened next is a first for us and I'm hesitant to broach upon the subject. We had a huge gust of 30 knots which is way too much for the amount of sail we had out. Moxie was off like a rocket but soon became overpowered, we heeled alarmingly, water was flowing over the starboard decking, stantions (the little fence posts around the boat) were in the water and we rounded up, it is called a broach. Anyone behind us will know that Moxie (but perhaps not her crew), has a nice clean bottom. Let's just say we gave ourselves a 360 degree start penalty, the wind then promptly dropped to a gentle breeze then stopped altogether for a spell and again started up with the sweeping gusts to catch the unweary.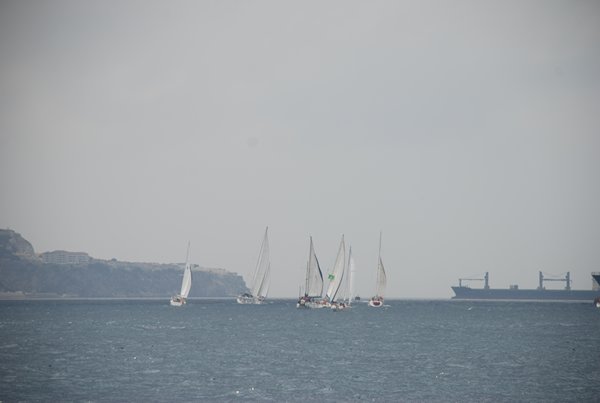 Start of the Gibraltar - Morocco rally 2011.
Ahead of us one yacht turned back for reasons unknown and another, after the gust, that now had a two part mainsail also had to abandon the trip. We fully furled the Genoa and motored until we were clear of big nasty ships and errant wind gusts. Tentatively, once past the Rock and into the 'safety of the Gibraltar Straits' (busiest shipping lane in the world) we put out some headsail, switched off the noise and sat back for a pleasant trip to continents afar (or actually rather close). MV Albany acted as Sheppard to all for the crossing.
Onroute we saw dolphins, first sighting this year and also what we thought was a sunfish, a single black fin protruding from the surface flopping slowly left and right (so not a shark) and a huge creature beneath (2m or more round). We later learnt that it was a ray and the flopping fin is the very tip of the wing. Not mentioned earlier are the sea turtles that we have seen. I saw two of them between Rota and Barbate, but I thought that I knew there were no sea turtles in this part of the world so was doubting myself, we go past so quickly that they are only sighted for a couple of seconds so impossible to photograph and even to point out to anyone else. So brief is the experience that questions about what you've seen race around in your mind - I saw a fin like a turtle, yeah definitely a turtle fin.. I think. Thankfully between Barbate and Gib, Denise and I both saw another huge one which confirmed itself majestically as it briefly stretched it's scaly head up for a dozy scan of the horizon, which I guess is not far away when your eyes are only 6" off the water.
Friendly local catching a free ride.
We arrived in Smir at around 5pm, cleared customs and berthed like professionals Med style stern to, our first ever attempt at this in a very tight space no shouting required.
---